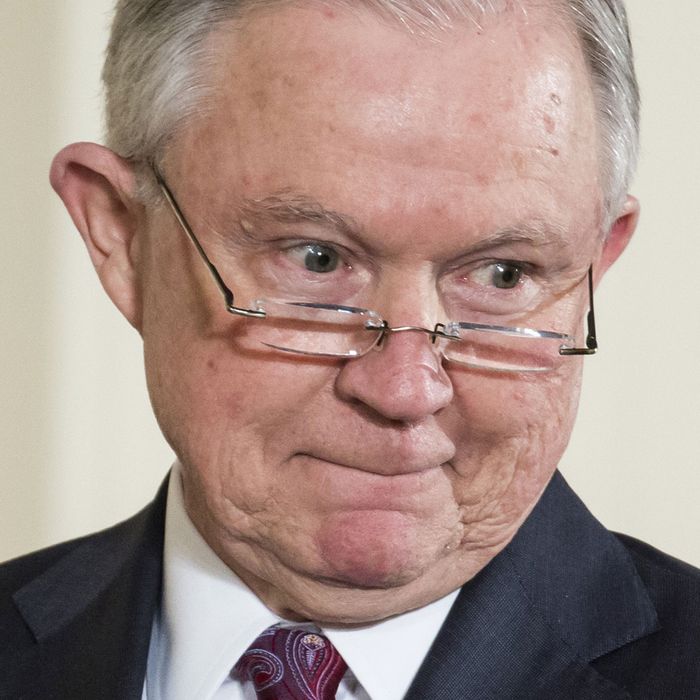 St. Paul would probably like Jeff Sessions to keep his name out of his mouth.
Photo: Getty Images
When he spoke to a law enforcement group in Indiana today, the attorney general of the United States was clearly angry about religious objections to his administration's immigration policies. He may have had in mind incidents like this very important one this week (as noted by the National Catholic Reporter):
The U.S. bishops began their annual spring assembly by condemning recent immigration policies from the Trump administration that have separated families at the U.S.-Mexico border and threatened to deny asylum for people fleeing violence.




The morning session here began with a statement, but by its end escalated to numerous bishops endorsing the idea of sending a delegation to the border to inspect the detention facilities where children are being kept and even floating the possibility of "canonical penalties" for those involved in carrying out the policies.
Being a Protestant and all, Sessions has no fear of the kind of "canonical penalties" Catholic bishops might levy. But perhaps he is aware of an official resolution passed by his own United Methodist Church in 2008 (and reaffirmed in 2016), which reads in part:
The fear and anguish so many migrants in the United States live under are due to federal raids, indefinite detention, and deportations which tear apart families and create an atmosphere of panic. Millions of immigrants are denied legal entry to the US due to quotas and race and class barriers, even as employers seek their labor. US policies, as well as economic and political conditions in their home countries, often force migrants to leave their homes. With the legal avenues closed, immigrants who come in order to support their families must live in the shadows and in intense exploitation and fear. In the face of these unjust laws and the systematic deportation of migrants instituted by the Department of Homeland Security, God's people must stand in solidarity with the migrants in our midst.
So Sessions decided he'd smite all these ninny-faced liberal clerics with his own interpretation of the intersection of Christianity and immigration:
In his remarks, Sessions hit back at the "concerns raised by our church friends about separating families," calling the criticism "not fair or logical" and quoting scripture in his defense of the administration's tough policies.




"Persons who violate the law of our nation are subject to prosecution. I would cite you to the Apostle Paul and his clear and wise command in Romans 13 to obey the laws of the government because God has ordained them for the purpose of order," Sessions said. "Orderly and lawful processes are good in themselves and protect the weak and lawful."
Those who are unacquainted with the Bible should be aware that the brief seven-verse portion of St. Paul's Epistle to the Romans has been throughout the ages cited to oppose resistance to just about every unjust law or regime you can imagine. As the Atlantic's Yoni Appelbaum quickly pointed out, it was especially popular among those opposing resistance to the Fugitive Slave Act in the run-up to the Civil War. It was reportedly Adolf Hitler's favorite biblical passage. And it was used by defenders of South African Apartheid and of our own Jim Crow.
Sessions's suggestion that Romans 13 represents some sort of absolute, inflexible rule for the universe has been refuted by religious authorities again and again, most quoting St. Augustine in saying that "an unjust law is no law at all," and many drawing attention to the overall context of Paul's epistle, which was in many respects the great charter of Christian liberty and the great rebuke to legalism in every form. Paul was pretty clearly rejecting a significant sentiment among Christians of his day: that civil authorities deserved no obedience in any circumstance.
Beyond that, even if taken literally, in Romans 13 Paul is the shepherd telling the sheep that just as they must love their enemies, they must also recognize that the wolf is part of a divinely established order. In today's context, Jeff Sessions is the wolf, and no matter what you think of his policies, he is not entitled to quote the shepherd on his own behalf. Maybe those desperate women and men at the border should suck it up and accept their terrible lot in life and defer to Jeff Sessions's idolatry toward those portions of secular immigration law that he and his president actually support. But for the sake of all that's holy, don't quote the Bible to make the Trump administration's policies towards immigrant families sound godly. And keep St. Paul out of it.