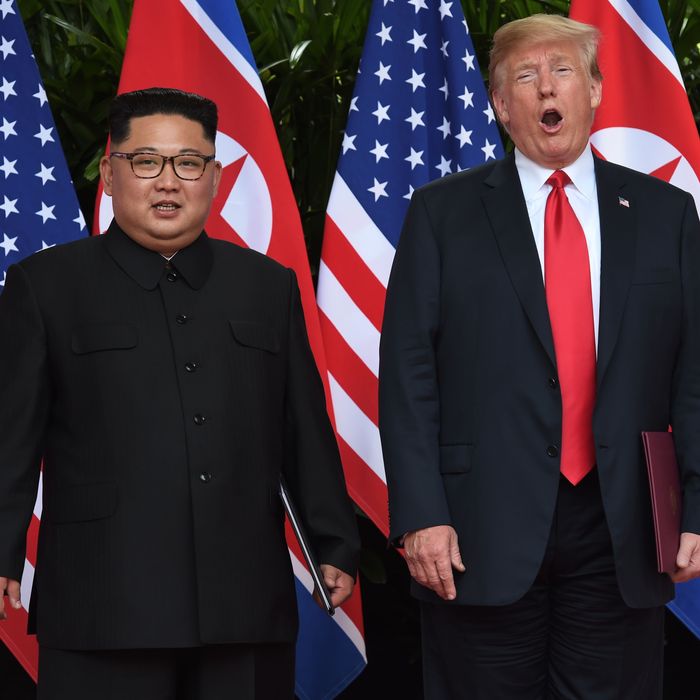 Kim Jong-un and President Trump in Singapore.
Photo: Anthony Wallace/AFP/Getty Images
North Korea has stepped up its production of nuclear fuel at multiple secret sites over the past few months, according to more than a dozen U.S. intelligence officials who spoke with NBC News. President Trump, after his historic but deal-less June 12 summit with North Korean dictator Kim Jong-un, made the dubious claim that there was "no longer a nuclear threat" from the country. North Korea experts have rejected Trump's pronouncement, however, noting Pyongyang's long history of bad faith diplomacy and the fact that Trump was able to obtain only a vague mutual commitment to denuclearization from Kim. Now, anonymous U.S. officials have leaked the intelligence community's assessment of the situation, and it appears to directly contradict Trump.
That assessment concludes that the regime has been working to expand its nuclear arsenal, is operating more than one secret nuclear enrichment site, and as one official explained, "there is absolutely unequivocal evidence that they are trying to deceive the U.S."
Put another way, the regime may have suspended its missile and nuclear tests, and made a big show of dismantling its one known test site, but there continues to be no reason to believe North Korea has any intention of denuclearizing, or any indication that it is doing anything other than posturing in an attempt to gain additional concessions from the Trump administration. (There is already near universal agreement that President Trump made a mistake in agreeing to end joint military exercises between the U.S. and South Korea, since he got nothing in exchange from Kim.)
Various North Korea experts have underlined the importance of the new report, both in regard to what it contains, as well as the fact that U.S. officials felt compelled to leak it. Sharing the assessment with the media could indicate the severity with which the U.S. intelligence community disagrees with President Trump's statements on the matter, or could be part of some kind of authorized strategy to expose the sites and build pressure on North Korea — or justify future military action.
Another analyst points out that it's hard to accuse North Korea of breaking the rules when the U.S. didn't make it agree to any in the latest negotiations:
Building more nuclear weapons was also exactly what Kim said he was going to do:
Assuming the leak was unauthorized, it's not clear how the Trump administration will react. The White House did not respond to NBC's request for comment on the story, but per the intelligence assessment, it seems likely that Trump would have been briefed on the nuclear production sites ahead of the Singapore summit. One area of concern is that the president's improvised approach to the North Korea crisis could lead to war if Trump decides he has been made a fool of and is then convinced to retaliate by North Korea hawks like national security adviser (and Iraq war architect) John Bolton. It's also possible that Trump will simply look the other way:
Whatever Trump does, it seems clear that the Trump administration's strategy toward North Korea continues to be haphazard at best. On Saturday, Politico reported that the administration still doesn't have a full-time envoy to handle negotiations