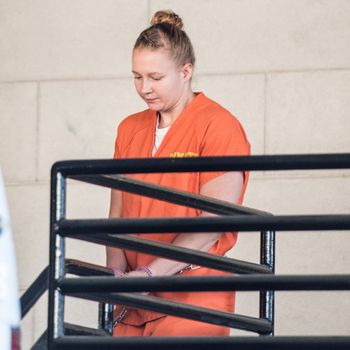 Reality Winner.
Photo: Sean Rayford/Getty Images
Reality Winner, the NSA contractor accused of leaking classified documents to the press, has pleaded guilty, becoming the first high-profile leaker sentenced to imprisonment under the Trump administration. In court on Tuesday, prosecutors recommended that Winner be sentenced to 63 months in prison for sharing a report on Russian hacking in the 2016 election.
Last year, Winner sent a report she accessed as an NSA contractor to the Intercept, a publication that frequently reports on the intelligence community. The report detailed attempts by Russian hackers to infiltrate the software of voting machines and the email accounts of elected officials in the days leading up to the 2016 election. The same day that the Intercept published details of the report, the Justice Department announced that it already had Winner in custody and was charging her under the Espionage Act.
Winner's arrest led to a tangled mess of speculation about how, precisely, she got caught. The Intercept, in the process of running down the story, reportedly tipped off the NSA about where the report was mailed from. The FBI affidavit also stated that investigators looked into who had printed out the report after noticing it had been "folded and/or creased." Likewise, some have speculated that if reporters gave the NSA scanned copies in the process of reporting, "tracking dots" invisible to the naked eye might also have helped investigators determine who leaked them. Still, top-secret documents don't even need to be printed in order to be tracked because they are stored in a central database that logs everyone who accesses it.
"All of my actions I did willfully, meaning I did so of my own free will," Winner said in court today. Winner, 26, was honorably discharged from the Air Force in 2016, and worked as an NSA contractor in Georgia at the time of her arrest.
Following the hearing, her mother, Billie Winner-Davis, said, "I can only think that it's because she was the very first one: the one they wanted to make an example out of, the one they wanted to nail to the door as a message to others."
Update: 6/27, 3:00 p.m. This post initially stated that Winner had been sentenced to 63 months in prison. That was only the Justice Department's recommendation. Her sentencing is upcoming.