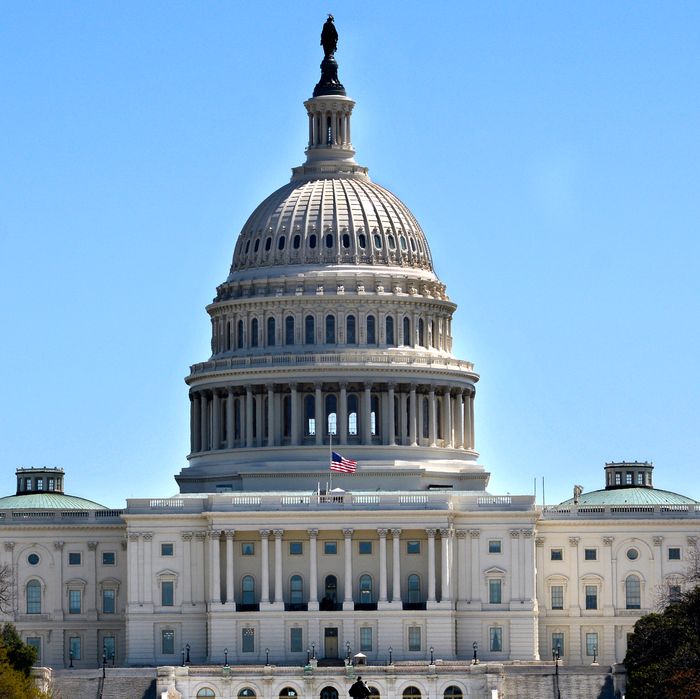 The dome where it happens.
Photo: Robert Alexander/Getty Images
A new CBS News poll shows Democrats with a five-point lead for control of the House of Representatives in the midterm elections, the latest in a series of surveys showing a tightening race between the two parties.
The network projects that Democrats will win control of the House — just barely, with 219 seats to the Republicans' 216. The projection has a margin of error of nine seats; Democrats need 23 to retake the chamber.
With the general elections about five months off, predicting the allottment of seats is an inexact science at best. And, given the volatility of the Trump era, the chance that dramatic events will shift the political landscape remains high. Still, the CBS poll is consistent with several others in recent weeks, all showing a winnowing lead for Democrats. As FiveThirtyEight's poll tracker shows, Democrats' average lead on the generic ballot — considered a key indicator for midterm performance — has shrunk from double digits at the beginning of the year to mid-single digits today.
With the economy roaring, President Trump's approval rating has inched upward in recent weeks and since midterm elections are usually referendums on the commander-in-chief at the time, this is unambiguously good news for Republicans.
This is not to say that Trump is popular. In the CBS poll, only 42 percent of respondents approved of his policies over all, consistent with other surveys. And dissatisfaction with the president remains a potent force: 28 percent of Democrats in the poll said that their midterm vote was more important than a presidential election vote, while only 14 percent of Republicans agreed.
Democratic energy has been a major factor in special elections around the country, where the party has won surprising victories from rural Pennsylvania to Alabama.
But 79 percent of people in the poll rated the economy as "very" or "somewhat" good, numbers that, if they hold, will make Democrats' job more difficult in the fall.
This is not to mention the major built-in disadvantages Democrats face. Because of GOP-led gerrymandering over the last decade, the party will need a spectacular popular-vote victory to match a performance like 2006, when they won 31 seats to take back Congress in a repudiation of a different unpopular president.