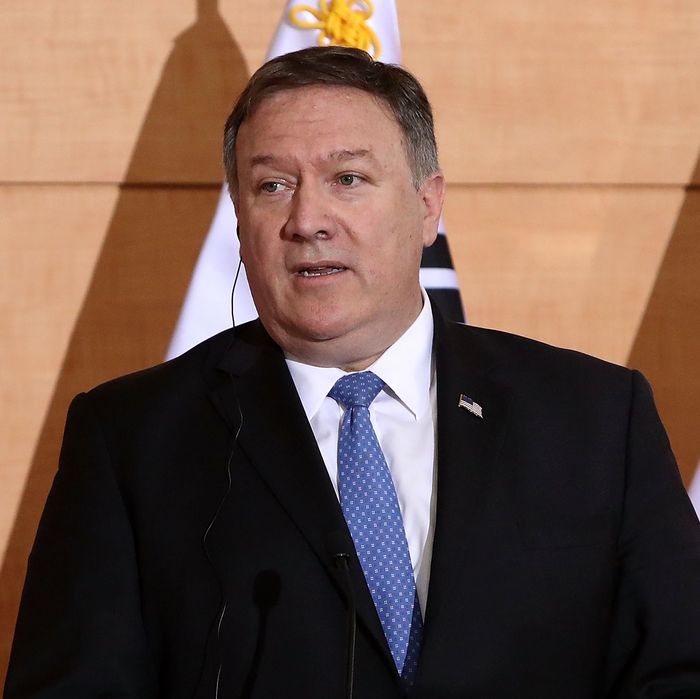 What he meant was …
Photo: Chung Sung-Jun/Getty Images
The Trump reality show we're all trapped in wrapped its latest episode — "The One Where the U.S. President Meets the North Korean Dictator" — early on Wednesday morning when President Trump summed up the moral of the story. "Everybody can now feel much safer than the day I took office," he tweeted. "There is no longer a Nuclear Threat from North Korea."
As he flew home from Singapore, Trump was already shifting his attention back to this season's larger story arc. According to CNN, in addition to celebratory calls with lawmakers, Trump phoned his lawyers to discuss the next steps in Special Counsel Robert Mueller's investigation.
Meanwhile, allies and analysts were left scratching their heads over what President Trump and Kim Jong-un actually agreed to. It fell on Secretary of State Mike Pompeo to try to explain what Trump's incoherent boasting meant in the real world, where the signed agreement fell far short of a "deal," and North Korea's nuclear program is still a serious threat.
Pompeo was in Seoul on Thursday to brief South Korean and Japanese officials on the summit, and while speaking to the press he tried to dispel the idea that Trump casually handed Kim a significant concession, suspending U.S.-South Korean war games, without getting much in return.
The secretary insisted that Trump was clear both with Kim and in his post-summit press conference that the military exercises would only be abandoned if "productive, good-faith negotiations" are ongoing. "At the point it's concluded that they are not, the president's commitment to not have those joint exercises take place will no longer be in effect," Pompeo said.
While Trump was hazy about the timetable for denuclearization, Pompeo gave a specific (though probably unrealistic) date. He said the U.S. aims to achieve "major disarmament" by the end of Trump's first term. "We're hopeful that we can achieve that in the next — what is it — two and a half years, something like that," he said.
North Korea is known to have hundreds of facilities related to the development of nuclear and chemical weapons, and advanced missile systems. While nuclear experts believe some significant progress could be made during Trump's time in office, they've estimated that completely dismantling North Korea's nuclear weapons program could take 10 to 15 years.
Pompeo contradicted some claims from North Korean state media about what the process would look like. While the Korean Central News Agency said Trump agreed to "lift sanctions" as relations improve, the secretary reiterated that would only come after Kim dismantles his nuclear program. "We're going to get denuclearization," Pompeo said. "Only then will there be relief from the sanctions."
On the eve of the summit, Pompeo emphasized that sanctions would remain until North Korea delivered "CVID," an acronym for complete, verifiable, irreversible denuclearization. "The V matters," he said.
But on Thursday Pompeo grew angry when reporters asked why both "verifiable" and "irreversible" were not mentioned in the agreement signed by Kim and Trump. First he insisted, "It's in the statement. You're just wrong about that." But when the reporter pointed out that isn't true, Pompeo argued that it doesn't matter because "'complete' encompasses verifiable and irreversible." He then told the reporter he found the question "insulting and ridiculous and, frankly, ludicrous."
As for the underling concern that Trump and Kim interpreted the talks differently, Pompeo said, "I am confident that [North Koreans] understand what we're prepared to do."
He also included a Trumpian jab, comparing U.S. journalists to the state-run press in North Korea. "One should heavily discount some things that are written in other places, including from some of your colleagues," he said.
Even after Pompeo's remarks much is unclear about the next steps following the summit, but it was an improvement on where Trump left things. Then on Thursday night, Fox News aired an interview filmed during Trump's return flight from Singapore in which he defended Kim again.
After calling the dictator a "tough guy," "smart," and someone who "loves his people," Trump shrugged off a question about his human rights abuses, echoing his remark last year that while Russian president Vladimir Putin is a killer, "There are a lot of killers. You think our country's so innocent?"
When Fox News host Bret Baier pressed Trump on how Kim has "done some really bad things," the president answered, "Yeah, but so have a lot of other people done some really bad things. I could go through a lot of nations where a lot of bad things were done."
When you're Trump's secretary of State, there's always a new fire to put out.