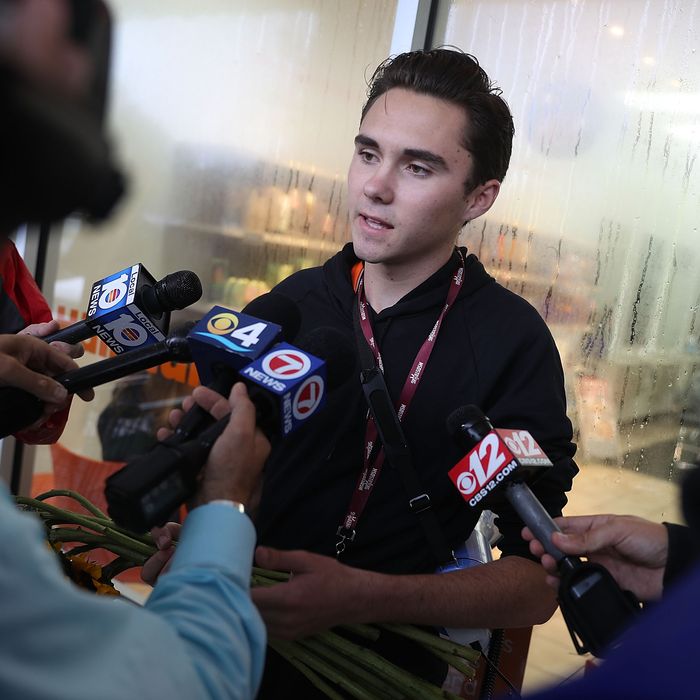 David Hogg can't stop, won't stop.
Photo: Joe Raedle/Getty Images
In recent years, America's most sociopathic prank callers have developed an innovative new form of attempted murder: Falsely report a crime involving heavily armed criminals at the home of someone you do not like, then hope that their friendly-neighborhood SWAT team is in a trigger-happy mood that day. This is an increasingly popular way for dangerous idiots to resolve their online disputes, and has resulted in at least one death.
On Tuesday, someone decided to use this maneuver to terrorize the family of Parkland school shooting survivor — and gun control activist — David Hogg. Early this morning, the Broward County Sheriff's Office received a call reporting a hostage situation at Hogg's address, the local ABC affiliate reports. A fire rescue team then arrived at the scene and, fortunately, quickly discerned that the call had been a prank.
Hogg was not at home at the time of the "swatting" attempt, as he and his mother had traveled to Washington, D.C., to accept the RFK Human Rights award. While Hogg's activism has won him accolades in some quarters, it has also earned him a great deal of vitriolic attention from conservative media figures and politicians, several of whom have compared the school shooting survivor to Adolf Hitler. When Hogg tried to organize a boycott of reactionary radio host Laura Ingraham's advertisers in March, conservative commentators (along with Bill Maher) decried his attempt to stifle her speech through "bullying."
Baiting heavily armed police officers into storming the home of someone whose opinions you don't like might not be as serious an attack on the ideal of free speech as, say, encouraging liberals to make politically informed consumption decisions — but hopefully, right-wing First Amendment–lovers will take time to condemn the former anyway.