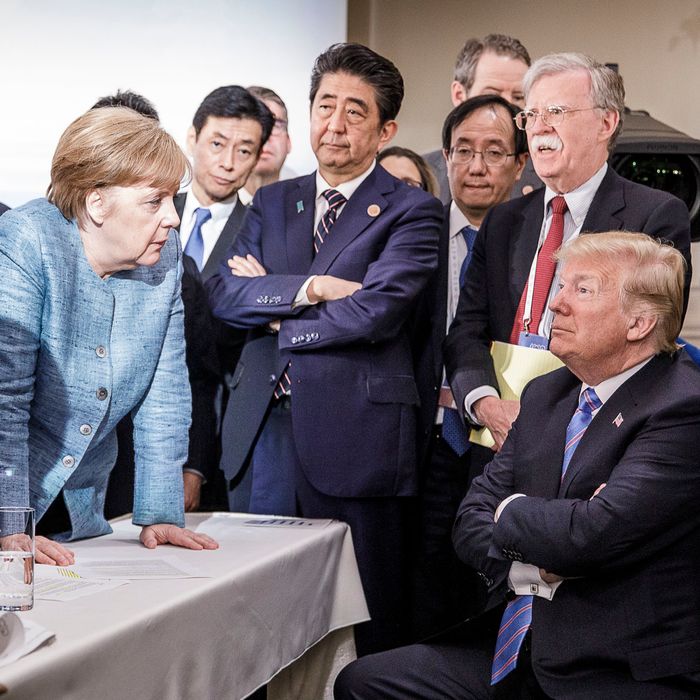 This pretty much says it all.
Photo: Jesco Denzel/Jesco Denzel/picture-alliance/dpa/AP Images
It had already been an extremely tense G7 meeting. Just before showing up late, President Trump had suggested Russia rejoin the alliance, to the consternation of most of his ostensible allies. He had harangued world leaders over their supposedly unfair trade practices, disrupted a women's empowerment meeting, and generally acted as a one-man diplomatic wrecking ball. Still, despite everything, he had agreed to sign on to the communique traditionally cobbled together by the countries at the end of the summit  — previously a formality, now just an indication, however tenuous, that America was still on board with the liberal democratic project it helped build in the ashes of World War II.
And, at an impromptu quasi-press conference before his departure, Trump had rated his personal relationship with fellow leaders as a "10," despite his fierce disagreement with them over just about everything.
But then, somewhere over the Pacific on his way to meet Kim Jong-un, Trump blew the whole thing up in two tweets.
Trump's flip-flop may be the starkest sign yet that he is not interested in even maintaining a pretense of cooperation between the United States and its closest allies.
The proximate cause of his anger was a press conference Trudeau held just after the president's departure, in which he vowed that Trump's tariffs on Canadian goods — which, it should be emphasized, make no sense from an economic perspective — would be met with appropriate countermeasures. The tone of Trudeau's remarks was hardly hostile; he took pains to emphasize, however falsely, that the G7 had been "very successful."
And, as Trudeau said after the blowup, the trade sentiments were nothing he hadn't previously articulated in public. They're part of Canada's well-documented, new strategy of fighting back against America's punitive trade measures, after a failed Trump appeasement campaign.
But in Trump's Manichean view of the world, even the notion that a country might defend itself from his economic bullying apparently counts as a grave betrayal.
The morning after Trump's Twitter outburst, members of his staff dutifully defended the president's "Blame Canada" approach to international relations.
In a remarkable appearance on CNN's "State of the Union" Sunday morning, Trump economic adviser Larry Kudlow made Trudeau sound like a dictator, and tied Trump's bullying behavior to his imminent meeting in Singapore — though, as always with Trump, impulsive rage was likely more a cause of his behavior than any strategy.
In an even more remarkable appearance on "Fox News Sunday," trade adviser Peter Navarro went farther.
The spectacle of a U.S. presidential administration portraying Canada — yes, Canada — as the archvillain of the international order is so disorienting as to seem fantastical. But this is real life. On the eve of his long-awaited sitdown with Kim Jong-un, it is clearer than ever that Trump feels more affinity with strongmen who speak his own language of threats than with allies whom he believes, evidence be damned, are trying to screw him at every turn.
Vladimir Putin yearned for a Trump presidency so badly because he knew that Trump viewed the Western alliance with such deep suspicion that a serious rupture might be possible. What he might not have counted on was just how quickly and easily his vision would be realized.