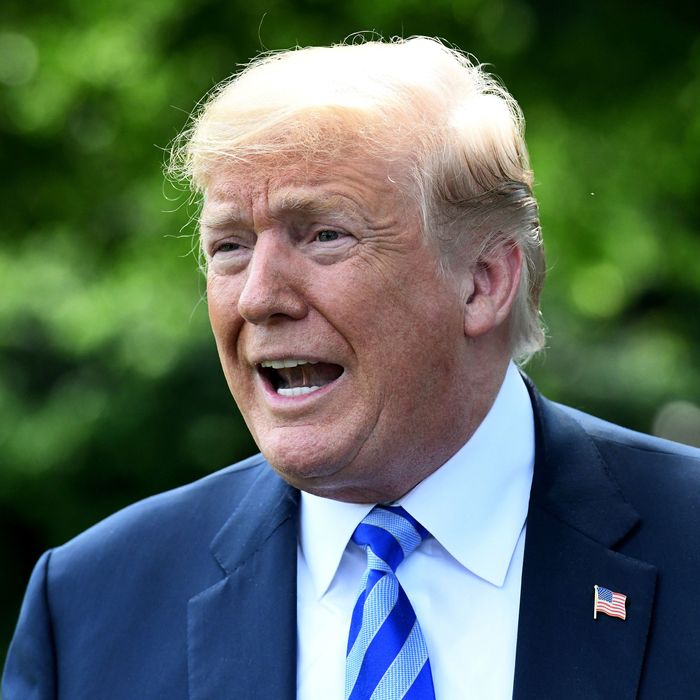 President or king?
Photo: Olivier Douliery-Pool/Getty Images
President Trump tweeted Monday morning that he has the right to pardon himself, but that he has no reason to do so, because he's completely innocent.
His bold, frightening assertion comes after a weekend in which the Trump administration's legal argument — that the president can basically do whatever he wants with no repercussions — came into sharper focus.
On Saturday, the New York Times reported that Trump lawyers had sent Special Counsel Robert Mueller a letter in January arguing that their client should not be forced to sit for questioning because, as the president, he could not by definition have obstructed justice.
Then, on Sunday, Trump lawyer Rudy Giuliani said on This Week that the Constitution probably gives Trump the power to pardon himself, but that if the president were to pull the trigger, it would lead to "immediate impeachment."
Later, Giuliani told HuffPost that even if Trump had shot former FBI director James Comey, he couldn't be indicted while in office.
In reality, a presidential self-pardon is a constitutional gray area, the kind of weak spot in the document that Trump excels at exploiting.
In a Foreign Policy examination of the issue last year, Brian Kalt wrote that if the president tried the maneuver, he would "have a very simple case that his self-pardon was valid: There is nothing in the Constitution that explicitly forbids it."
Update: Senate Judiciary Committee Chairman Charles Grassley is not impressed with Trump's legal theory. "If I were president of the United States and I had a lawyer that said I could pardon myself," he tells CNN, I think I would hire a new lawyer." Alas, Trump tends to fire lawyers who don't tell him what he wants to hear.