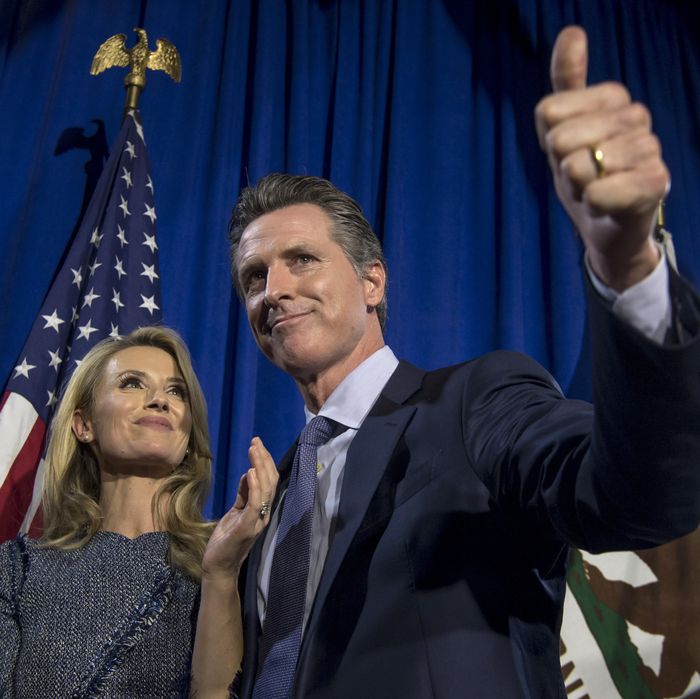 Gavin Newsom celebrates his win with his wife Jennifer Siebel Newsom on June 5, 2018.
Photo: David Paul Morris/Bloomberg via Getty Images
Tuesday was one of the biggest primary days of the year, with races in Alabama, California, Iowa, Mississippi, Montana, New Jersey, New Mexico, and South Dakota. California, where a new "top two" system threatened to shut one party out of certain races, drew the most attention. Though votes are still being counted, it appears Democrats will avoid this nightmare scenario in the top House races, while Republicans are relieved to have a spot in the governor's race. Here's a look at the key results in each state.
• Under California's "top two" system, the two candidates who get the most votes in the primary will face off in the general election, regardless of party. In the race for governor, Lieutenant Governor Gavin Newsom, a Democrat, finished first with 34 percent of the vote. He'll face Republican businessman John Cox, who was endorsed by President Trump. Former Los Angeles mayor Antonio Villaraigosa, a Democrat, finished third with 13.5 percent of the vote. The deeply blue state isn't likely to back Cox in the fall, but avoiding a shutout in the race was important for GOP turnout.
• Senator Dianne Feinstein, who is seeking a sixth term, finished first in a race with 31 candidates, taking 44 percent of the vote with 90 percent reporting. Former state senator Kevin de León, a fellow Democrat running to Feinstein's left, has 11.3 percent of the vote so far, and is expected to face her in November.
• Seven House Republicans hold seats in California districts that Hillary Clinton won, and those are key to Democrats' hopes of retaking the House in the fall. With a large number of Democratic candidates splitting the vote, there were fears that Democrats might be shut out of the race in some districts. While mail-in ballots could still swing the races, early on Wednesday morning, the L.A. Times reported that it appears Democrats have secured a spot in all of the top races.
• Fred Hubbell, a businessman and philanthropist, won the Democratic gubernatorial nomination with 56 percent of the vote in a six-way race. Recent polls showed Hubbell leading State Senator Nate Boulton by only single digits, but then Boulton dropped out of the race amid multiple sexual-misconduct allegations.
Hubbell will take on Republican governor Kim Reynolds, who faced no primary challenge. Reynolds took office last year when Terry Branstad left to become ambassador to China, and Democrats think they have a chance of unseating her.
• There will be a runoff election to determine which Democrat will take on incumbent U.S. senator Roger Wicker, a Republican, in the fall. Howard Sherman, venture capitalist and husband of actress Sela Ward, finished less than a point ahead of David Baria, leader of the minority in the Mississippi House. The winner will face an uphill battle in the deep-red state.
Most of the drama took place before primary day, when conservative insurgent Chris McDaniel announced he will run in a special election to replace Republican U.S. senator Thad Cochran, who retired this spring due to health problems. With McDaniel seeking the open seat, Wicker easily won the the GOP primary.
• There are currently five Republicans in New Jersey's congressional delegation, and Democrats are hoping to take all of them. Three of those races are considered among the most flippable in the entire country, and the party got the candidates they wanted in those races: Jeff Van Drew, a conservative Democratic state legislator, Mikie Sherrill, a former Navy pilot and prosecutor, and Tom Malinowski, a former Obama State Department official.
• Governor Kay Ivey won the GOP nomination in a five-way primary. While polls showed Ivey ahead, there had been some concern that she might face a runoff. Ivey became governor after Robert Bentley resigned last year. She is heavily favored to win in November, as the state leans strongly Republican.
• Republican representative Martha Roby, who took heat for un-endorsing Donald Trump after the Access Hollywood tape, was forced into a runoff against Bobby Bright. Roby had 39 percent of the vote to Bright's 29 percent. The winner of the GOP runoff will be the heavy favorite to win the seat in the fall.
• Deb Haaland is on course to be the first Native American woman to serve in Congress after winning the Democratic nomination in New Mexico's First Congressional District. She'll face former Republican state lawmaker Janice Arnold-Jones and Libertarian candidate Lloyd Princeton in the heavily Democratic district in November.
• State auditor Matt Rosendale beat three challengers for the GOP nomination for Senate in Montana. He'll face Democratic incumbent Jon Tester, whose seat is seen as one of the most vulnerable.
• Representative Kristi Noem won the GOP nomination for governor of South Dakota, with 56 percent of the vote to state attorney general Marty Jackley's 44 percent. She's the heavy favorite against Democratic candidate Billie Sutton, and would become the first female governor of South Dakota.