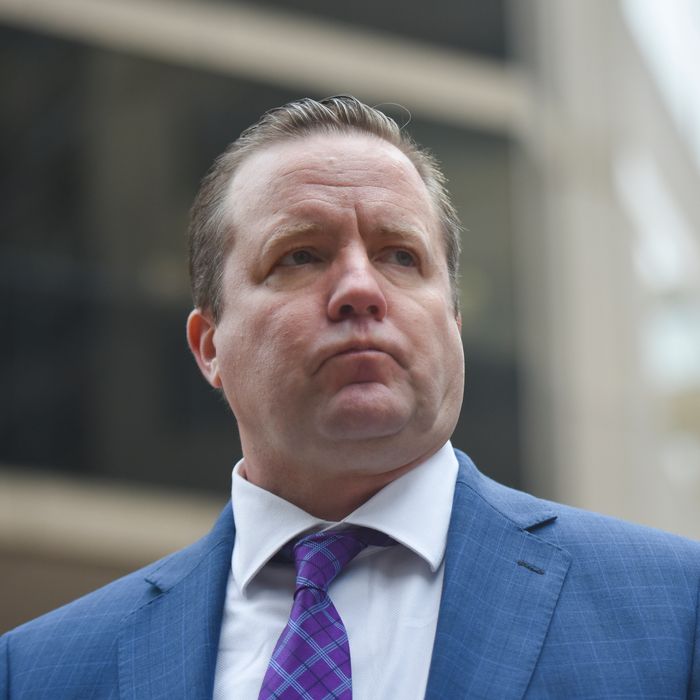 Corey Stewart, the GOP's nominee for the U.S. Senate in Virginia.
Photo: Jahi Chikwendiu/The Washington Post/Getty Images
Though he waited until a few hours before the polls closed to issue his endorsements, President Trump was a big winner in Tuesday's primary races. In South Carolina voters rejected incumbent Congressman Mark Sanford, who was attacked for being insufficiently loyal to Trump. In Virginia, Republicans went with a candidate who was so over-the-top Trumpy that he wound up being fired from the president's campaign. Here's a look at the key results in each state.
• Senator Tim Kaine, Hillary Clinton's running mate, will probably be able to hang onto his seat in the fall, but the race got more controversial on Tuesday when Corey Stewart won the GOP Senate primary. The chairman of the Prince William County Board of Supervisors, who was fired from the Trump campaign, was the frontrunner, but his win over state delegate Nick Freitas still upset more moderate Republicans.
Stewart is known for championing Confederate symbols, and attending a press conference with the leader of the deadly white supremacist protest in Charlottesville. More recently, Stewart disavowed Paul Nehlen, a "pro-white" candidate for Congress in Wisconsin, after video surfaced of him describing the candidate as his "personal hero."
Republicans expressed concern on Tuesday that Stewart's nomination will hurt GOP candidates down-ballot. Here's Virginia Republican Lieutenant Governor Bill Bolling:
• U.S. Representative Mark Sanford, who resigned as the state's governor amid a sex scandal, finally lost an election on Tuesday night. State legislator Katie Arrington successfully primaried Sanford, taking 51 percent of the vote to his 47 percent. She highlighted his lack of fealty to President Trump, and his infamous fake hike on the Appalachian Trail.
• Despite receiving an endorsement from the president, Governor Henry McMaster, who replaced Nikki Haley when she resigned to be United Nations ambassador, will face a runoff for the GOP gubernatorial nomination. While he finished first, he fell short of a majority, so he'll face off with businessman John Warren in two weeks.
• Republican Governor Brian Sandoval is term-limited, so Nevada Democrats are hoping to pick up the seat in the state Hillary Clinton won in 2016. Steve Sisolak, who chairs the powerful council that oversees the Las Vegas strip, beat five other Democrats in a bruising primary. He'll face Republican Adam Laxalt, a Trump-backed former Navy lieutenant whose father and grandfather served in the U.S. Senate.
• Shawn Moody won the Republican nomination to replace term-limited Governor Paul LePage, taking well over 50 percent of the vote with 70 percent of precincts counted. However, thanks to Maine's new ranked-choice voting, we still don't know who the Democratic nominee will be. State Attorney General Janet Mills currently has a small lead over attorney Adam Cote, but that could change in the coming days.
• As expected, Representative Kevin Cramer, who holds the state's only House seat, won the GOP nomination to take on vulnerable Democratic incumbent Heidi Heitkamp in November.