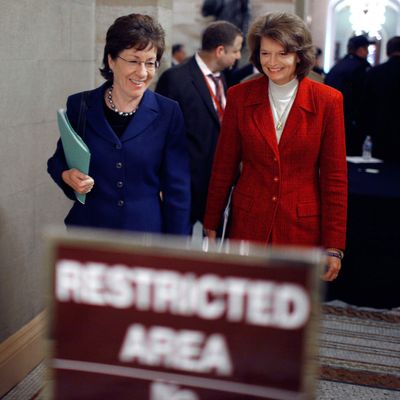 By next year, Susan Collins and Lisa Murkowski will be the only pro-choice Republicans in Congress.
Photo: Chip Somodevilla/Getty Images
As the Senate and the nation gear up for an intense Supreme Court confirmation battle that is likely to revolve around the possibility that Anthony Kennedy's successor will provide a fifth SCOTUS vote to restrict abortion rights, the polarization of the two parties on this issue is worth reassessing. The survival of a small anti-abortion faction in the Democratic Party is still an open question, as evidenced by Democratic Congressional Campaign Committee chair Ben Ray Luján's statement last year that the party would not impose any reproductive rights "litmus test" on candidates, and the survival of Representative Dan Lipinski in a hotly contested Illinois primary earlier this year in which his conservative views on the subject were front and center.
The takeover of the GOP by those who oppose reproductive rights has been less publicized, but is even more complete, as dramatized last week by the very public dissolution — in a New York Times op-ed no less — of the 30-year-old organization Republican Majority for Choice. And now, after surveying the landscape, Politico has some even more striking news:
The retirements of Reps. Charlie Dent and Rodney Frelinghuysen mark the end of the line for abortion rights supporters in the Republican Conference. And there's no GOP nominee in a competitive race who backs abortion rights this year, according to abortion interest groups and party officials, which will leave Congress more polarized on the issue than at any time since Roe v. Wade — all of it with a bruising Supreme Court nomination on the horizon.
What's interesting about that development is that at the rank-and-file level pro-choice Republicans are significantly more numerous than pro-life Democrats. According to a 2017 Pew survey 22 percent of self-identified Democrats believe abortion should be illegal in all or most cases, while 34 percent of Republicans believe abortion should be legal in all or most cases.
By next year representation for the one-third of Republicans who support abortion rights will be down to two GOP women in the Senate: Susan Collins of Maine and Lisa Murkowski of Alaska. Both have fought their party's efforts to destroy Planned Parenthood, and have voted against patently unconstitutional congressional legislation to restrict abortions (such as this year's bill to ban abortions after 20 weeks of pregnancy). Both have not, however, carried their pro-choice convictions into votes on confirmation of federal judges who strongly oppose abortion rights. Collins and Murkowski both voted to confirm Neil Gorsuch last year, and while they will come under intense pressure to defy their party when Donald Trump's choice to succeed Anthony Kennedy comes up for a Senate confirmation vote, party unity in a moment of crisis could matter most to them, aside from the temptation they will face to trade their votes for administration or GOP favors on other issues.
It's unclear how long this two-woman GOP pro-choice faction will remain intact. Collins's current term ends in 2020 (she considered but then rejected the idea of running for governor this year), and Murkowski's ends in 2022. So neither will be on the ballot in the immediate wake of the current SCOTUS fight. But they are on the politically endangered-species list nonetheless.