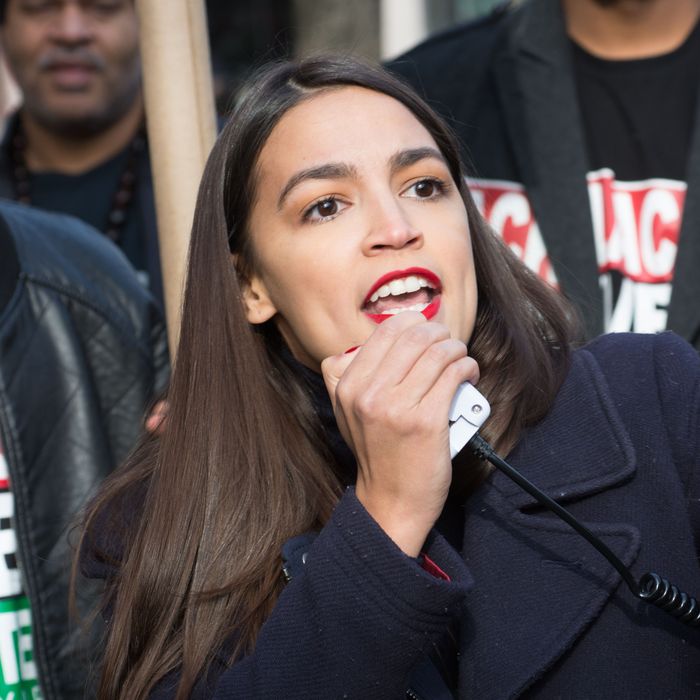 A good night for socialism in America.
Photo: M. Stan Reaves/REX/Shutterstock/M. Stan Reaves/REX/Shutterstock
The shocking upset of House Democratic Caucus chairman Joe Crowley of New York by 28-year-old first-time candidate Alexandria Ocasio-Cortez was the headliner for the last major primary night before August. But her victory — aided by a strong grassroots network and very low (roughly 13 percent) turnout — was one of several notable examples of a continued leftward trend in Democratic primaries this year.
Other June 26 Democratic winners did not necessarily have Ocasio-Cortez's background as a Bernie Sanders organizer and membership in the Democratic Socialists of America. But all in all, self-proclaimed progressives did well. And for what it's worth, Donald Trump was two for two on the night with his endorsed candidates in New York (Dan Donovan) and South Carolina (Henry McMaster) winning comfortably.
New York
Aside from the upset in NY-14, progressive Democrats got a win in the Syracuse-based 24th Congressional District, where local activist and Syracuse University professor Dana Balter easily defeated DCCC favorite Juanita Perez Williams for the chance to take on vulnerable GOP representative John Katko.
Balter also reflected the national trend of Democratic women doing unusually well in 2018, as did the landslide victory of former state legislator Tedra Cobb over a large field (including former MSNBC personality Dylan Ratigan) in the upstate 21st District. Incumbents Yvette Clark in the Brooklyn-based 9th District and Carolyn Maloney in the Manhattan-Queens 12th District both evaded surprisingly strong challenges. On the other hand, in Hudson Valley/Catskills 19th District represented by another vulnerable Republican, John Faso, the only woman in the large Democratic field finished last, far behind the winner, former music entrepreneur Antonio Delgado.
The only drama among New York Republicans was resolved early in the count Tuesday night with Donovan's surprisingly easy win over his predecessor, Michael Grimm. As expected, Democrats nominated Max Rose in Donovan's Staten Island/Brooklyn 11th Congressional District, but the incumbent will have the advantage.
Maryland
The solid night for progressives continued in Maryland, where former NAACP president and venture capitalist Ben Jealous, who is closely associated with Bernie Sanders, won the Democratic gubernatorial nomination, solidly defeating a large field including Prince George's County executive Rushern Baker, who was backed by much of the state's Democratic Establishment. Jealous will have an uphill battle in November against popular Republican incumbent Larry Hogan.
Colorado
U.S. representative Jared Polis didn't have that notable a progressive reputation when he decided to run for governor of Colorado, where Democratic centrist John Hickenlooper is term-limited. But he ran on "Medicare for all," and, on the power of his $11 million in self-funding, beat former state treasurer Cary Kennedy (closely associated with the teachers' uprising in Colorado) and former state legislator Mike Johnston. Current state treasurer Walker Stapleton won the GOP nod after an I'm-more-MAGA-than-you battle with former state legislator Victor Mitchell. Polis will be the slight favorite in November.
Oklahoma
"Progressivism" is an unknown term in Oklahoma, but Democrats think they have their best shot at the governorship in a good while, and well-known former four-term attorney general Drew Edmondson easily defeated former state legislator Connie Johnson for the nomination. Republicans, however, will go to a runoff between former Oklahoma City mayor Mick Cornett and outsider-businessman candidate Kevin Stitt. Reflecting the profound unpopularity of term-limited incumbent governor Mary Fallin, lieutenant governor Todd Lamb, the early favorite, finished out of the money at third.
South Carolina
The deep-red Palmetto State held runoffs on Tuesday, and in the marquee race, incumbent GovernorHenry McMaster (who ascended to the position when Nikki Haley became ambassador to the U.N.) defeated yet another conservative-outsider businessman, John Warren, by a comfortable margin. McMaster was originally deemed as vulnerable, but benefited significantly from Trump's support (POTUS appeared with him on Monday night), motivated by McMaster's endorsement of Trump during the 2016 primaries. Any Republican running statewide in South Carolina must be favored, but McMaster has a long history of dubious accomplishments that could make him vulnerable against the Democratic nominee, state legislator James Smith, who won without a runoff.
In a 4th District congressional runoff to choose a successor to retiring representative Trey Gowdy, one of the state's most prominent hard-core neo-Confederate conservatives, Lee Bright, lost to William Timmons despite support from the Club for Growth.
Utah
To no one's surprise, the GOP nominee to replace U.S. Senator Orrin Hatch will be Mitt Romney, who easily defeated state legislator Mike Kennedy.