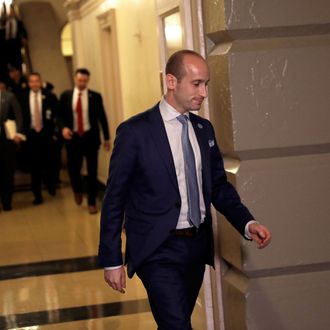 Miller.
Photo: AARON P. BERNSTEIN/Bloomberg via Getty Images
A vicious Onion parody today depicts White House adviser Stephen Miller as a sadist, warped by childhood bullying, who enjoys the suffering of refugee families. This fake quote reads kind of over the top:
"Stephen actually enjoys seeing those pictures at the border," an outside White House adviser said. "He's a twisted guy, the way he was raised and picked on. There's always been a way he's gone about this. He's Waffen-SS."
But it does echo this very real piece of reporting from yesterday:
Claiming that the publication of such a brief, tantalizing bit of audio was a breach of their journalistic responsibility, a furious Stephen Miller told reporters Tuesday that he was outraged at ProPublica for only releasing seven minutes of immigrant children sobbing. "It's unacceptable that this so-called news organization saw fit to foist this total tease of a clip on the American public," said Miller, who expressed frustration that the audio, in which 10 detained Central American children can be heard crying out for their parents, ended before reaching "the really good stuff."
Wait, that's backwards! The first one is the real report from Vanity Fair, the second is from the Onion. Oddly enough, the parody version is actually more gentle.