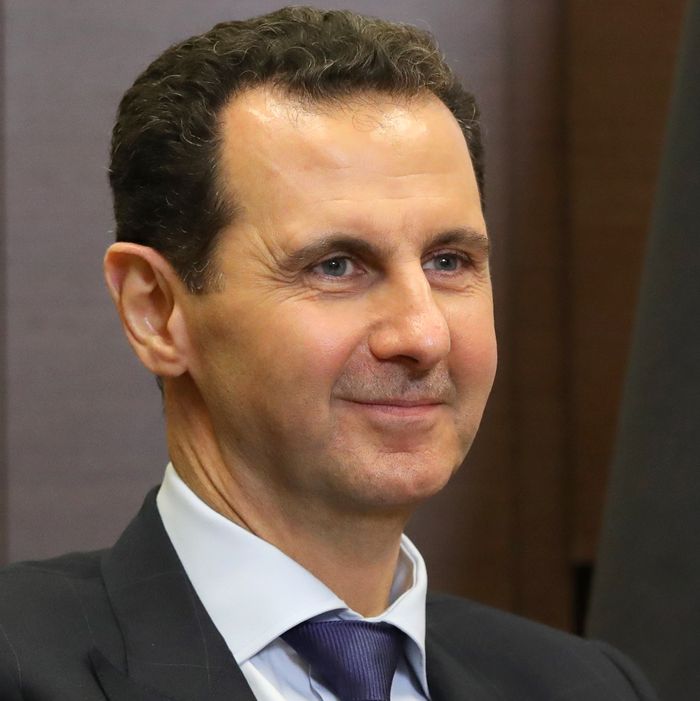 Unfortunately, he has reason to be pleased.
Photo: Mikhail Klimentyev/Mikhail Klimentyev/POOL/TASS
Syrian President Bashar al-Assad plans to visit Kim Jong-un in North Korea, according to a report on Sunday from the state-controlled Korean Central News Agency.
Assad reportedly made the announcement of his visit on May 30, as he received the credentials of Mun Jong-nam, the new North Korean ambassador to Syria. The precise purpose of his trip is unclear, as is the timing.
Syria is one of the few countries that has maintained cordial diplomatic relations with North Korea over the last few decades, with the two countries establishing official ties in 1966. North Korea sent hundreds of troops to Syria to assist in its fight against Israel during the 1973 Arab-Israeli War. More recently, the U.N. has accused North Korea of supporting Syria's chemical-weapons program. Chemical attacks launched by Assad have repeatedly drawn international condemnation and ineffectual military responses from the United States.
Kim has been on a diplomatic blitz recently, after years of isolation. He recently met with China's Xi Jinping and South Korea's Moon Jae-in, though those those summits were held in the other leader's home countries. Both meetings were related to the upcoming sitdown with President Trump in Singapore on June 12, which now looks, once again, on track to actually happen.
"The world welcomes the remarkable events in the Korean peninsula brought about recently by the outstanding political caliber and wise leadership of … Kim Jong-un," Assad said, according to the Korean News Agency, though the comment sounded more like boilerplate propaganda rhetoric than a head of state's actual words.
The trip to North Korea may be a sign of Assad's growing confidence. The Syrian civil war is in its eight catastrophic year, and the death toll stands in the hundreds of thousands — most of those dead at the hands of Assad's forces. But, with a big assist from Russia, he has wrested control of almost all territory once governed by rebels, leaving him firmly in control of most of the devastated country. The fact that he feels unconstrained enough to visit an ally thousands of miles away is likely a testament to his strong political position.