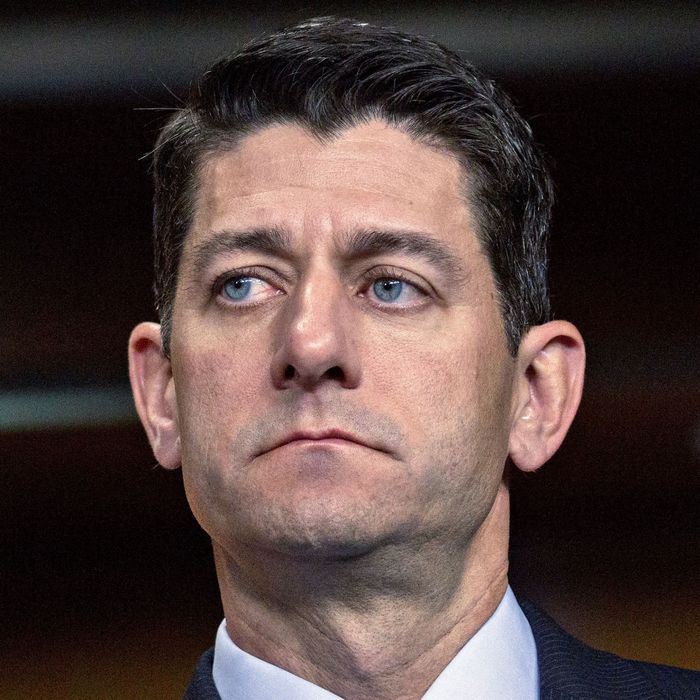 Even if Paul Ryan can't actually pass an immigration bill, he can certainly pretend to give Democrats a way to stop family separations.
Photo: Andrew Harrer/Bloomberg via Getty Images
Casting about for a few more votes and better press on behalf of the "compromise" immigration legislation he wants the House to vote on next week, Paul Ryan has seized on the red-hot controversy over families being separated at the U.S. border to make his ever-evolving mix of provisions more appealing.
It's unlikely this provision is going to change the dodgy prospects of the overall bill, which adopts the "four pillars" framework of the Trump proposal unveiled back in January, with relief for Dreamers matched with border-wall funding and restrictions on legal immigration. It's probably going to be too lenient for MAGA people (Breitbart News is preemptively attacking it as "amnesty"), and House Democrats are giving it a wide berth, as Roll Call notes:
The bill is expected to create a visa for young undocumented immigrants brought to the United States as children, known as Dreamers, as well as other young immigrants who are here legally but on more temporary permits. The new visa, which would provide a path to legal status and eventually citizenship, won't add to overall number of visas because the bill would cut diversity and family-based visas.




It is expected to authorize the full $25 billion President Donald Trump has requested to build a wall along the Southern border. 




"Everything we've heard has been very negative," House Minority Leader Nancy Pelosi said when asked whether Democrats might support it.
In addition, anything like the Ryan bill is almost certainly going to go nowhere in the Senate.
But now, if nothing else, Ryan can offer the White House and the GOP a new tack on the family-separation issue, since nobody's buying Trump's effort to blame what is clearly an administration policy decision on laws enacted in the past by Democrats. Now they can say, "House Republicans offered a legislative 'fix' for the problem, but those amnesty-loving Democrats slapped away their outstretched hand." At today's White House press briefing Sarah Huckabee Sanders (after referring to strict enforcement of immigration laws as "biblical") seemed to follow Ryan's lead by repeatedly calling on Democrats to "come to the table" to "fix" the "loopholes" that so lamentably made it necessary for the administration to take kids away from their parents.
If you can't actually legislate, you can always use legislation for purposes of strategic maneuvering and partisan propaganda. In fact, that's been the pattern more often than not in the supposedly united Republican 115th Congress.