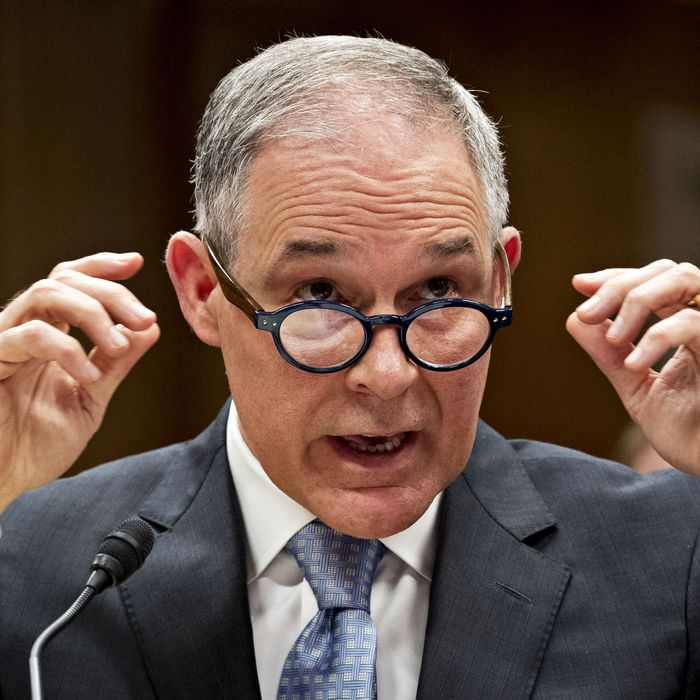 Lock him up?
Photo: Andrew Harrer/Bloomberg via Getty Images
In his first ten months on the job, EPA administrator Scott Pruitt sent just one message from his government email account to anyone outside of the agency. That is, if you believe the records provided by the EPA.
Watchdog groups don't. Nor do they believe the EPA's official line that Pruitt primarily uses the phone and in-person meetings to communicate with the industry leaders with whom he so often meets.
Politico reports that oversight groups think the EPA may be concealing the communications of the highly secretive Pruitt, who had a $43,000 soundproof phone booth installed in his office last year. The Sierra Club secured the release of Pruitt's one sent email through a FOIA request. The group is now asking the EPA to disclose any messages related to government business that Pruitt sent through his private email. They also want the EPA to "certify definitively that he does not use personal email or secretive messaging applications like WhatsApp and Signal to circumvent records retention laws."
"The idea that Scott Pruitt sent a single work-related external email during nearly a year leading EPA is absurd on its face," said Justine Thompson Cowan, a lawyer working on the Sierra Club's case.
If the emails exist, Melanie Sloan of the watchdog American Oversight told Politico, they "could show what these people want and then those emails could be compared to what the EPA does." If the EPA is telling the truth and Pruitt is in fact not communicating via email, that raises concerns, too. "It is entirely possible that he doesn't use email, but that becomes suspect," Cowan said. "How is he conducting business, and is he doing that on purpose so that we don't get the records? In this day and age, who doesn't use email?"