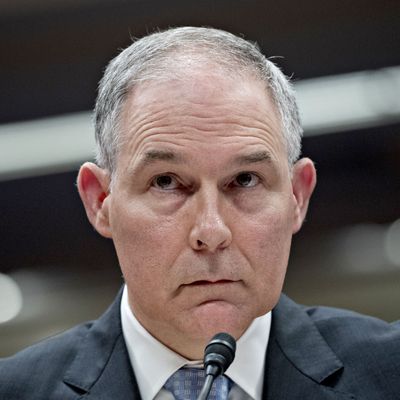 Scott Pruitt.
Photo: Andrew Harrer/Bloomberg via Getty Images
We already knew that EPA administrator Scott Pruitt doesn't like paying full price for apartments and mattresses. Now we know he likes his food at a discount too.
According to Politico, the scandal-plagued Oklahoman took to eating at the bargain-priced White House mess so often last year that he had to be asked to stay away.
In response to Pruitt's recurring use of the restaurant next to the Situation Room in the basement of the West Wing, a member of the White House's Cabinet affairs team told agency chiefs of staff in a meeting last year that Cabinet members shouldn't treat the mess as their personal dining hall, according to three people with knowledge of the issue.
As a Cabinet official, Pruitt has access to the exclusive Navy-run restaurant, where prices are much lower than comparable eateries in downtown D.C. But that didn't stop Pruitt from racking up a sizable bill. In July of 2017, he and his guests paid $400 for nine different visits to the mess, where they chowed on such delicacies as $7.05 hamburgers and $10.25 cowboy skirt steaks.
Pruitt reportedly goes to the White House mess so often because the EPA doesn't have a cafeteria or private dining quarters for the administrator. Now we know why, months after arriving in Washington, Pruitt tried to use his position to hook his wife up with a job at Chick-fil-A. He was also trying to hook himself up with some free sandwiches.