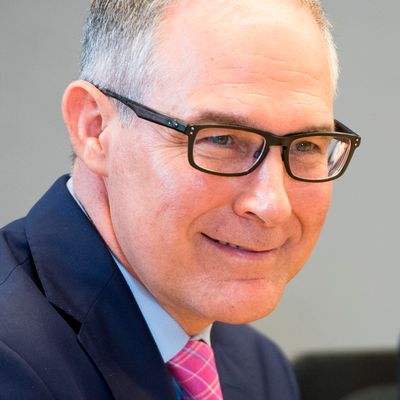 Scott Pruitt.
Photo: Jim Watson/AFP/Getty Images
The landlords who gave Environmental Protection Agency administrator and scandal-collector Scott Pruitt a sweetheart deal on his Washington, D.C., condo discussed awarding an EPA job to a family friend with Pruitt and his chief of staff, according to emails reviewed by the New York Times and Washington Post. Lobbyist J. Steven Hart and his wife Vicki — who rented Pruitt an upscale Capitol Hill condo for $50 a night on flexible terms — pushed the EPA for a job for a recent college graduate who was "important" to the couple. The candidate was not ultimately hired, but the emails and other previously undisclosed interactions cast even more shadows on the relationship between the Harts and Pruitt.
Mr. Hart continues to insist that he has received no special treatment from Pruitt or the EPA, nor has he had any "undue influence" over them. Both Mr. Hart and the EPA still claim, even in light of this newly revealed correspondence, that he did not lobby the agency after Pruitt took charge. The emails, which were obtained in a lawsuit filed by the Sierra Club, appear to tell a different story.
Mr. Hart's lobbying firm at the time has recently amended his lobbying disclosure forms to indicate that he had represented three companies at the time. In emails to Pruitt's chief of staff, Ryan Jackson, Mr. Hart suggested four job candidates for the EPA that were recommended by an executive who ran the philanthropic arm of one of those companies, Smithfield Foods. Mr. Hart also discussed refrigerant chemicals with Jackson on behalf of another one those companies, Coca-Cola, and tried to set up meetings for clients in the interactions. At one point, Mr. Hart offered to encourage Senator Richard Burr to approve an EPA nominee.
The EPA says that Jackson and Mr. Hart are old friends, and that the emails contain no evidence of impropriety, and that "many" of the emails were unsolicited and did not impact any agency policy outcomes." None of the job candidates Mr. Hart suggested were hired, they also said.
Scott Pruitt is currently facing 13 different federal investigations into how he has managed the EPA and spent taxpayer money, and at least two are related to his condo deal with the Harts.