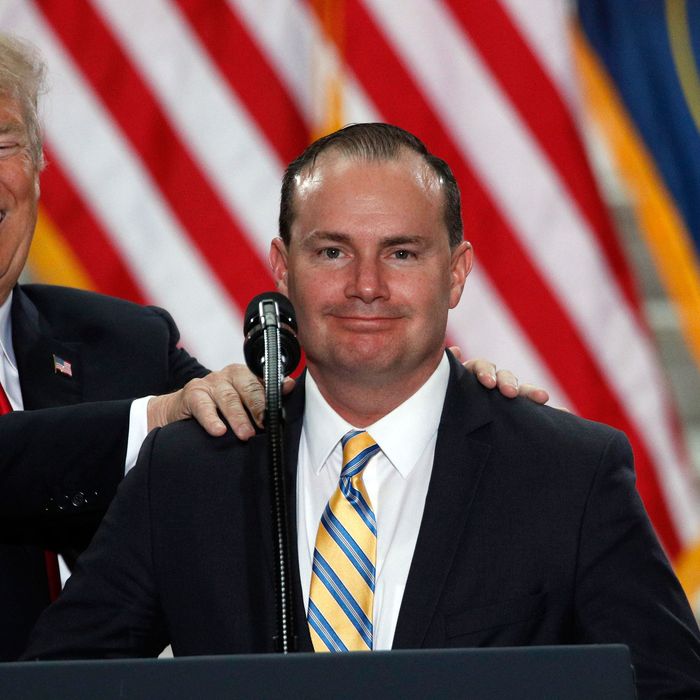 Trump with Senator Mike Lee in Utah last December.
Photo: George Frey/Getty Images
With this president, it's hard to know for sure if this is a real scoop indicating a really speedy decision on an item of enormous importance, or just the first of many rumors, trial balloons, head feints, or empty gestures. But for what it's worth, Bloomberg's Jennifer Jacobs is reporting that Donald Trump is expressing interest in Senator Mike Lee as a possible successor to Supreme Court justice Anthony Kennedy.
President Donald Trump has asked advisers their opinions about nominating Utah Senator Mike Lee to replace Justice Anthony Kennedy on the Supreme Court, according to three people familiar with the matter…




Trump thinks Lee would be easily confirmed by the Senate, but the president has expressed concern about keeping his Senate seat in Republican hands, one person said. All of the people spoke on condition of anonymity to describe private deliberations.
The president could be off base on both of those opinions. Lee is the rare SCOTUS prospect who has publicly attacked the 1973 decision that recognized abortion rights at this year's anti-abortion March for Life:
These Americans march to protest the legal regime that sustains abortion.




The cornerstone of that crumbling edifice is Roe v. Wade, the 1973 Supreme Court case that invented a so-called "right" to abortion in the Constitution, and in so doing stripped the unborn of their right to life.
Lee went on in that vein at some length, which isn't unusual for a conservative politician from a strongly pro-life state like Utah, but is considered very poor form for someone who might soon be on the Court hearing a challenge to Roe and at least pretending to maintain an impartial attitude. If Lee became the nominee, it might be difficult for pro-choice Republican senators Susan Collins and Lisa Murkowski to vote for him while maintaining the fiction that it was not a vote to overturn Roe. Lee also isn't one of those universally loved senators who would be confirmed by his colleagues as a token of affection and respect.
Perhaps recognizing that he needs some repair work on his reputation for a judicial temperament, Lee this very day suddenly felt a spasm of self-restraint, as Politico reports:
The Supreme Court vacancy created by retiring Justice Anthony Kennedy might not imperil abortion rights and same-sex marriage to the degree their defenders have suggested, Sen. Mike Lee said Thursday, thanks to legal doctrine that protects precedent….




"All of those issues involve cases that have been decided previously by the Supreme Court. It's one thing for them to assume that a Republican appointee might come at those issues from a different worldview as a matter of first impression," Lee told Fox News' "Fox & Friends," the morning TV news show the president is known to favor.




"They have to take into account the doctrine of stare decisis, which is a doctrine that generally puts the Supreme Court on a path of following precedent," he continued. "So, they can't know for sure how any one of those issues is going to turn out and whether any one of those cases might be overturned."
Almost sounds like someone rehearsing his confirmation talking points, doesn't it? It sure doesn't sound like the Mike Lee of the 2018 March for Life.
On the other hand, Trump's fear that Democrats might pick up Lee's Senate seat seems excessive, as the Salt Lake Tribune observes:
Under Utah law, if Lee were nominated and resigned his Senate seat, the governor would appoint a replacement from a list generated by the Utah Republican Party's governing body and that person would serve until voters picked someone in the next general election.




If that happened and given this November's election is only months away, it would likely mean Utah voters in 2020 would choose a new senator to serve the remaining two years of Lee's term.




Utah voters haven't elected a Democrat to the Senate since re-electing Sen. Frank Moss in 1970.
They aren't going to start in a presidential election year, even if Alabamans did elevate a Democrat in a special election when the governor appointed a uniquely vulnerable interim senator who lost to a universally known Christian-right icon who in turn was accused of trawling malls for underage teen girls. Utah's too calm and sane for that kind of madness.
The real irony of Lee's name surfacing so quickly is that he wasn't even the first member of his own family to make Trump's SCOTUS list. His older brother Thomas, a Utah supreme court justice, was on the very first Trump list in March of 2016. Mike was added to a revised and expanded list that September, possibly to avoid any unpleasantness at the Lee family Thanksgiving dinner.
We'd better get used to this sort of speculation. Even on Mitch McConnell's accelerated timetable, confirmation hearings aren't due to begin until August. So Trump's got plenty of time to entertain — and distract — us before making the final choice.