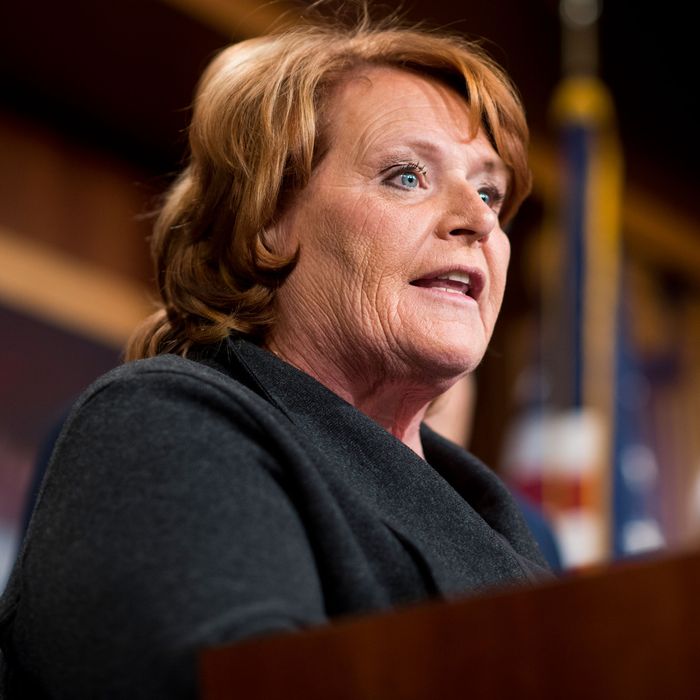 North Dakota senator Heidi Heitkamp is a strong candidate for reelection, but she's bucking a clear trend toward partisan consistency in Senate voting.
Photo: Bill Clark/CQ-Roll Call,Inc.
As Democrats gear up for a major fight to deny Donald Trump an early second Supreme Court appointment, they are also hoping that November's election will give them the power to block a potential third or fourth Trump Supreme Court choice by taking away the GOP's Senate majority. Everyone understood how improbable that ambition seemed to be at the beginning of the cycle, given a 2018 Senate landscape tilted heavily toward the GOP. But after Doug Jones's special-election win in Alabama last December, anything seemed possible.
And so it remains, with endangered Democratic incumbents mostly holding their own and the Donkey Party seeing a chance at gaining seats in places like Mississippi and Tennessee, which have long been off the political map for them. But a new Pew report this week on the recent history of Senate races, and their relationship to presidential outcomes, makes it clearer than ever what kind of mountain Democrats are climbing in terms of their effort to reclaim the upper chamber.
The vast majority of the regular and special Senate elections held since 2013 — 69 of 73 — have been won by candidates who belonged to the party that won that state's most recent presidential race, according to a Pew Research Center analysis of election results going back to 1980 …




[O]f the 38 regular and special Senate elections held in the 2013-14 cycle, all but three mirrored the 2012 presidential vote, for a mismatch rate of just under 8 percent. (The three exceptions all were Republicans elected to Senate seats in Obama states.) In 2016, all 34 Senate contests tracked the presidential vote in their respective states.
And then there was the Alabama special election of 2017, which in light of this recent Senate history, was even more remarkable than it seemed initially.
The most logical path to a Democratic Senate in 2018 would involve all the Democratic incumbents (including the ten representing states won by Trump in 2016) winning while Republicans lost in Nevada and Arizona. That would produce a "mismatch rate" (between the current Senate and most recent presidential results) of 31 percent. In 2006, another year when the Senate flipped, the mismatch rate was actually higher, at 36 percent. But since then a more consistent partisanship has taken hold.
To be clear, several of the "Trump Ten" Democratic senators (e.g., Debbie Stabenow of Michigan, Bob Casey of Pennsylvania, and Tammy Baldwin of Wisconsin) are running in states that the GOP very narrowly won in 2016, and where Trump's approval ratings are now underwater. They are all favorites for reelection, and should be —particularly if you add in even a mild pro-Democratic midterm "wave." But victory for Democrats like Joe Manchin of West Virginia (whose state went for Trump by 42 points) and Heidi Heitkamp of North Dakota (Trump by 36 points) are relying on ticket-splitting at an anachronistic level we haven't seen in awhile. And even Claire McCaskill of Missouri and Joe Donnelly of Indiana, whose states both went for Trump by 19 points, have to worry that a late trend toward GOP partisans "coming home" in the autumn could be a real problem. A negative role model is 2016 Democratic Senate candidate Evan Bayh, from Donnelly's state, who was an overwhelming front-runner early in the going but ultimately lost by ten points as voters returned to their tribes.
Just to get a sense of the range of possibilities here, consider this: If 2016's zero "mismatch rate" prevailed this year — meaning every state went for the party that carried it in the last presidential election —Republicans would have a net gain of nine Senate seats and would secure a filibuster-proof 60–40 ratio. That's not going to happen, but it's a reminder of the combination of adverse forces Democrats are facing in the Senate this year.