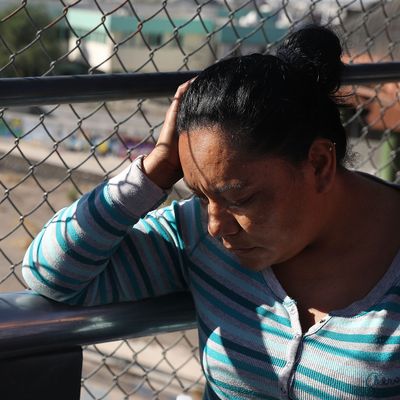 Angelica waits at the Paso Del Norte Port of Entry to hear if she will have an opportunity to ask for asylum for her and her daughter on June 20, 2018, in El Paso, Texas.
Photo: Joe Raedle/Getty Images
The Trump administration released a fact sheet on Saturday outlining its plan to reunite roughly 2,300 migrant children with their parents. "This process is well coordinated," the document said, referring to several government agencies working together to process families apprehended at the border. However, in practice the process is proving to be just as confusing and chaotic as the "zero tolerance" policy that led to the separations in the first place.
The document said ICE has designated the Port Isabel Service Processing Center in Los Fresnos, Texas, as the primary facility for families to be reunited prior to deportation. But advocates say many parents still don't know where their children are, and some are giving up their asylum claims because they believe that will allow them to be reunited with their children faster.
Sirine Shebaya, a Washington-based civil-rights lawyer who came to South Texas to assist separated families, told the Washington Post that what she's witnessed in the past few days is "the most inefficient, preposterous system that I have ever encountered."
"We have people in there who are considering not continuing on with really strong asylum claims because they think they'll get reunited with their kids faster if they give up their claim," she said. "That's just wrong."
A Honduran man separated from his 6-year-old daughter after they illegally crossed the border in late May told the Texas Tribune that he and most of the roughly two dozen men at the facility had been told they would be reunited with their children at the airport if they signed a voluntary deportation order.
"I was told I would not be deported without my daughter," the man said. Now he's trying to revoke the order he signed and get legal help with his case. "I signed it out of desperation … but the truth is I can't go back to Honduras; I need help," he said.
Two immigration attorneys said they've heard similar reports from the other detainees there, and don't think the federal government would be willing or able to honor that promise. Even if they could quickly process the man and his daughter, attorney Cynthia Milian said, "I doubt they would put his child on a plane to get her to where he would get deported out from, especially if she's in Arizona."
An unnamed administration official told CNN that the offer is customary, and it's not limited to parents who are separated from their children; detained immigrants are told that if they sign the order to be removed rather than waiting for a judge to hear their case, they can be processed more quickly.
But immigration advocates say immigrants in this situation may not understand that the processes for deportation and family reunification are separate.
"We have no reason to believe that (voluntary deportation) is the fastest way for parents to be reunited with their children," said Efrén Olivares, an attorney with the Texas Civil Rights Project. "Putting them in that position is not a voluntary (deportation); it's being obtained under duress."
Undocumented immigrants can choose whether to have their kids be deported with them, or have their claims processed separately. The federal government said it's setting up a hotline immigrant parents can call to help agencies locate their children, set up regular communication, and coordinate removal if necessary. But it doesn't appear that it's working yet. Eileen Blessinger, a Virginia immigration attorney, said she and her colleagues have talked to about 100 parents at Port Isabel, and only 25 percent have been able to speak to their children since they were separated.
Advocates are also skeptical of the Trump administration's plan because they say the 1,200-person Port Isabel facility seems to be at capacity, and it's not set up to house minors. Senator Elizabeth Warren spent two hours there on Sunday night and said she did not see reunions happening. She called it a "disturbing picture."
"There are children by themselves. I saw a 6-month-old baby, little girls, little boys. There are mothers with their babies and with small children," Warren told CNN. "And they're all on the concrete floors in cages."
Warren also criticized a tweet in which President Trump said people who cross the border illegally should be sent "back from where they came" immediately, without due process.
"When a woman comes here with her 4-year-old son, and says, 'I am asking for amnesty, I have been threatened by gangs in my home country,' we should at least give her a hearing," Warren said. "That is the least that is required of us as a country and as human beings."