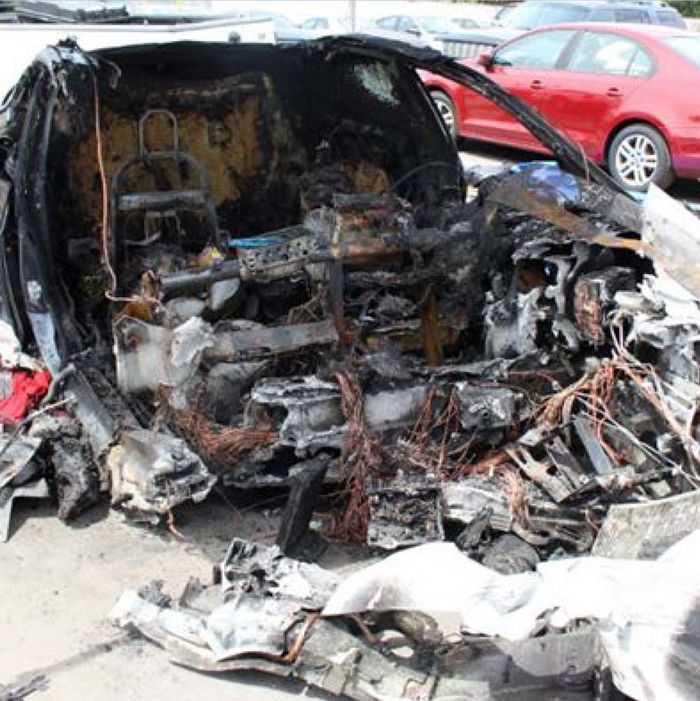 Photo: National Transportation Safety Board
Last month, an 18-year-old Florida teenager and his friend crashed a Model S Tesla driving nearly 70 miles over the speed limit. Both died on impact and the Tesla erupted in flames so fierce that nearly 300 gallons of water were needed to subdue the fire.
While a harrowing event on its own, a new report released by the U.S. National Transportation Safety Board points to a safety hazard in the Model S battery that could put first responders unfamiliar with lithium-ion battery fires at risk. According to the report, while firefighters were removing the razed car from the scene, the Tesla's lithium-ion battery reignited two more times.
"They [the firefighters] extinguished the vehicle fire using 200–300 gallons of water and foam," the report reads. "Small portions of the lithium-ion high-voltage battery had separated from the vehicle, and — though there was no visible fire — they applied water and foam to the debris. During the loading of the car for removal from the scene, the battery reignited and was quickly extinguished. Upon arrival at the storage yard, the battery reignited again. A local fire department responded to the storage yard and extinguished the fire."
According to the report, the driver attempted to pass another vehicle traveling 116 miles per hour. Losing control, the Tesla hit a curb, then a wall, and was finally halted by a metal pole. Witnesses said that by the time the car hit the second wall, they could see flames.
In an email to Select All, a spokesperson for Tesla said that the high speed violent collision caused the immediate fire. Tesla said that in these rare instances, their batteries and modules are designed to prevent fires from spreading as fast as in gas cars. According to Tesla, this slow burn design can lead to modules that are damaged but do not immediately burn. Tesla said that with these circumstance it is possible for some of these damaged modules to reignite when handles, which appears to be what happened here.
This is not the first time a Tesla has combusted. Sometimes, the car can erupt in flames even without a collision, as demonstrated in this video actress Mary McCormack posted of her husband's Model S engulfed in flames on a Santa Monica Boulevard.
If you are one of Elon Musk's more than 22 million Twitter followers, this troubling new development may not have reached you. In fact, Musk's narrative surrounding recent Tesla safety concerns denies any issue altogether. Neither Musk nor Tesla Motors have publicly addressed the issue on their Twitter pages at the time of this writing, but on the same day, Musk did retweet a Wired story titled, "The Tesla Model S Is So Safe It Broke the Crash Testing Gear."
While the Model S and the Model X have indeed both received high safety scores in the past, newer reports have called these into question. Either way, Musk has adopted at position of responding to questions over safety combatively — and this recent case — with passive indignation.
Earlier this year, Musk responded to a Reveal investigation accusing Tesla of improper safety within its workplace as "carefully constructed propaganda."
The NTSB report also comes just one week after a former Tesla employee named Martin Tripp leaked information to Business Insider claiming mass scrap-metal waste and punctured battery cells. Tesla has filed a lawsuit against Tripp, who calls himself a whistle-blower, alleging that he "unlawfully hacked" Tesla's manufacturing operating system. (For what it's worth, Tesla previously denied the battery accusations and Tripp denies the hack, saying he doesn't have the patience for coding.)
Tesla alluded to the possibility of a situation similar to this in its "Emergency Response Guide" on its website.
"A damaged high voltage battery can create rapid heating of the battery cells," the document reads. "Due to potential re-ignition, a Model S that has been involved in a submersion, fire, or a collision that has compromised the high voltage battery should be stored in an open area at least 50 ft (15 m) from any exposure."