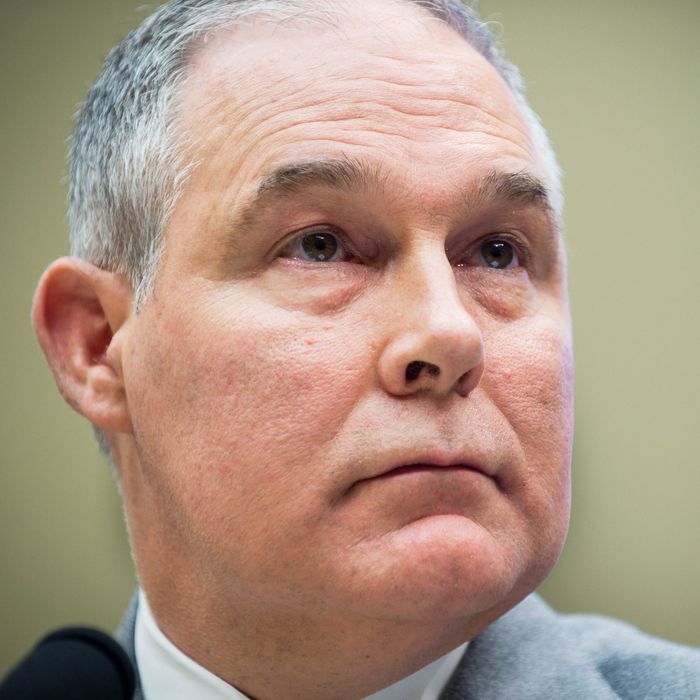 What, me corrupt?
Photo: Pete Marovich/Getty Images
Because exposé after exposé has uncovered prodigious evidence of the EPA administrator Scott Pruitt's ethical bankruptcy, it's hard to believe that there are still more transgressions left to uncover. But Pruitt's breakneck, exhausting-sounding corruption schedule ensures that reporters may be probing just the early months of his tenure for a long time to come.
The latest revelation comes from the New York Times, which has been perhaps the most dogged chronicler of Pruitt's shadiness over the last few years. The paper used Freedom of Information Act requests to figure how and why Pruitt scored primo courtside tickets to a University of Kentucky basketball game last year. The answer is unlikely to shock you.
The tickets came courtesy of Joseph W. Craft III, a billionaire coal baron and major supporter of President Trump, who is also a heavyweight donor to the University of Kentucky. Pruitt's seats are reserved for season-ticket holders who have given at least $1 million to the university; Pruitt says he reimbursed Craft $130 in cash for the privilege.
Craft was a major contributor to Pruitt during his time as attorney general of Oklahoma. Now that Pruitt has the power to execute — or, more accurately, unwind — environmental policy at the federal level, Craft and his company, Alliance Resource Partners, have been granted plenty of access at the EPA. Craft met personally met with Pruitt seven times over Pruitt's first 14 months at the agency, and the two are even texting buddies.
The sprawling piece continually highlights the pair's cozy relationship, and how it has dovetailed both with Pruitt's assault on regulations — which have already benefited Craft — and the Trump administration's laissez faire approach to, well, everything. For instance:
In October, Mr. Pruitt traveled to Mr. Craft's childhood hometown, Hazard, Ky., where, with Mr. Craft in the audience, he announced the repeal of the Clean Power Plan, an Obama-era policy to curb greenhouse gas emissions from power plants. A month earlier, Mr. Pruitt postponed enforcement of a rule barring coal-powered plants from dumping toxic metals into rivers, a move requested by a coal industry group with Mr. Craft on its board.




Emails and schedules show that Mr. Craft and Mr. Pruitt planned to meet at the Ritz-Carlton resort in Naples, Fla., for a gathering of the National Mining Association's board of directors. Mr. Pruitt even met with the board of Mr. Craft's company in a private dining room at the Trump International Hotel near the White House, according to schedules and emails made public by the E.P.A. in response to records request.
There have been other rules that directly benefit Craft. Pruitt postponed a water-treatment requirement that would have cost Alliance Resource Partners tens of millions of dollars. More recently, the Trump administration announced an unprecedented, economically nonsensical plan to prop up dying coal mines, a move that no doubt pleased Craft.
And on at least one occasion, Craft has literally been handed his own front-row seat to the action:
Mr. Craft sat front and center in Washington as Mr. Trump signed an executive order in March 2017, unwinding some of the Obama administration's climate change efforts directed at the coal industry. "You know what it says, right? You're going back to work," the president gushed to a group of miners, a smiling Mr. Pruitt by his side.
For those who have been observing Pruitt's tenure at the EPA, the contours of this story are familiar. As the Times and others have reported, Pruitt meets almost exclusively with the people he's supposed to be regulating, has all but ignored environmentalists, and shuns non-conservative media. As has been true since his attorney general days, he is more than happy to act as a vessel for oil and gas companies, who basically tell him what to do — which is not to say that their directives conflict with his personal anti-science beliefs. Pruitt also keeps his schedule mostly secret, so the precise extent of his industry connections is largely a guess.
And Pruitt has not gone to any great lengths to hide his conflicts of interest. The most well-known example may be the sweetheart condo deal he obtained from the wife of an industry lobbyist who tried to influence policy at the E.P.A., but there are plenty of other examples to choose from.
None of this, nor Pruitt's many other indiscretions — he is currently the subject of 12 separate investigations — has been enough for the Trump administration to cut bait. Pruitt's deregulatory zeal is popular among Republicans and the president, who likely relishes how much liberals love to hate him. Trump even endorsed Pruitt in a tweet a few weeks ago.
Still, as even more indiscretions came to light shortly after that vote of confidence, it seemed that even the president (and some Republicans in Congress) had had enough of Pruitt's shenanigans. By late April, press secretary Sarah Huckabee Sanders was offering the kind of lukewarm support that has, in the past, preceded staff departures. Pruitt's No. 2 at the EPA, the recently confirmed Andrew Wheeler, shares his boss's disdain for regulation, and some speculated that getting rid of Pruitt would leave Republicans with the same anti-environmental policy and none of the attendant headaches.
Yet Pruitt remains, kicking reporters out of press conferences, writing sloppy regulations, and reveling in the polluted swamp that is President Trump's Washington.
After everything, it's hard to believe that Saturday's story, as damning as it is, will be the final straw.