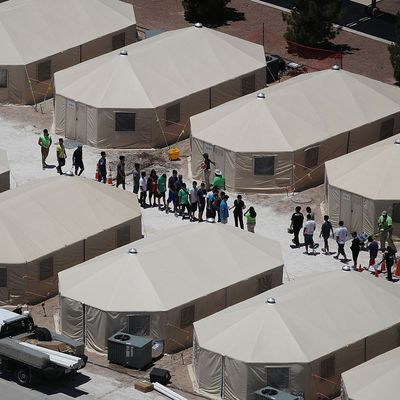 Looks like big plans are underway to detain tens of thousands of unauthorized immigrants.
Photo: Joe Raedle/Getty Images
Part of what's been playing out on television screens and heated public debates over the last few days has been the visible implications of a "zero tolerance" policy toward undocumented immigrants crossing the border: It's chaotic and often inhumane. But in quieter sectors of the federal government, bureaucrats are beavering away at plans to regularize the policy by building facilities to house tens of thousands of immigrants while immigration officials and the courts figure out what to do with them. And not just any bureaucrats — but military bureaucrats. Time has the story:
The U.S. Navy is preparing plans to construct sprawling detention centers for tens of thousands of immigrants on remote bases in California, Alabama and Arizona, escalating the military's task in implementing President Donald Trump's "zero tolerance" policy for people caught crossing the Southern border, according to a copy of a draft memo obtained by TIME.




The internal document, drafted for the Navy Secretary's approval, signals how the military is anticipating its role in Trump's immigration crackdown. The planning document indicates a potential growing military responsibility in an administration caught flat-footed in having to house waves of migrants awaiting civilian criminal proceedings.
These plans would appear to be responsive to language in yesterday's presidential executive order reiterating the "zero tolerance" policy while ending family separations:
 The Secretary of Defense shall take all legally available measures to provide to the Secretary [of Homeland Security], upon request, any existing facilities available for the housing and care of alien families, and shall construct such facilities if necessary and consistent with law. The Secretary, to the extent permitted by law, shall be responsible for reimbursement for the use of these facilities.
Indeed, unless the Navy is speedier in its planning operations than one would guess, the tent cities discussions must have been underway for a while. But clearly the Navy is ready to hit the ground running:
In the Navy document, military officials propose a 60-day time line to build the first temporary tent facility for 5,000 adults. After that, military officials suggest they could add room for 10,000 additional individuals each month.
But this is just part of the overall deployment of military resources:
The Pentagon has been asked make preparations on military bases to house as many as 20,000 house immigrant children who are apprehended at the U.S.-Mexico border without an adult relative or separated from parents, U.S. military officials said. Department of Health and Human Services completed assessments this week at Goodfellow Air Force Base, Dyess Air Force Base, Fort Bliss in Texas, and Little Rock Air Force Base in Arkansas for potential use for the Unaccompanied Alien Children program.
Now some of the reasons for using the military for this nonmilitary task are obvious. They own a lot of land and operate a lot of secured facilities that include efficient and relatively safe systems for housing and feeding thousands of people. There are some other reasons that are a bit less reputable . Military facilities can be easily sequestered from the prying eyes of the news media, immigration and civil-liberties lawyers, and political activists.
If these plans are implemented, it will be interesting to see how Americans react to this sort of use of their armed forces, which certainly reflects the president's belief that the poor and sometimes persecuted people struggling to enter this country without documentation are enemies of America, and putative rapists and murderers, if not "enemy combatants."