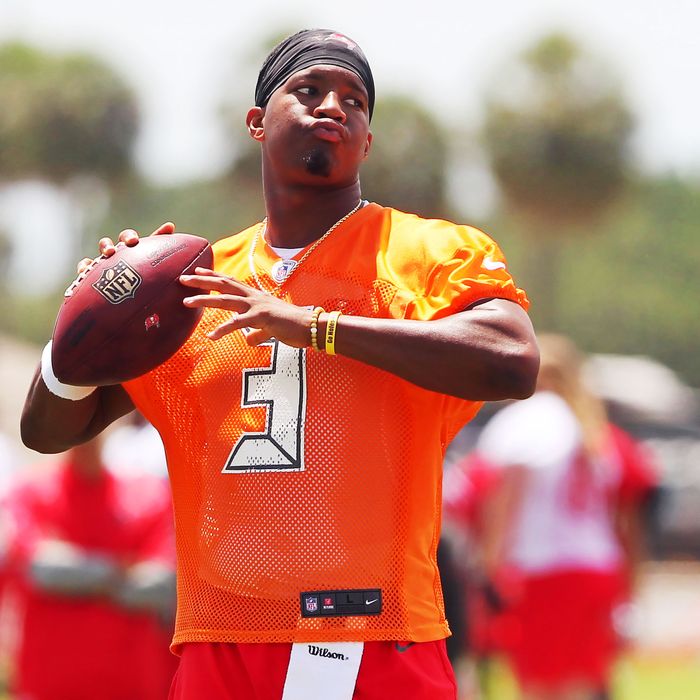 Tampa Bay Buccaneer quarterback Jameis Winston has twice been accused of sexual assault.
Photo: Cliff Welch/Icon Sportswire via Getty Images
In May, Deborah Epstein, director of the Georgetown University Law Center's Domestic Violence Clinic, resigned from the NFL Players Association Commission on Violence Prevention — the organization she joined, to much fanfare, in 2014 in the wake of the NFL's highly publicized bungling of the Ray Rice case that fall. Epstein, a woman who has dedicated her entire professional life fighting for victims of domestic violence, wrote in the Washington Post that she left because she could not "continue to be part of a body that exists in name only," and that the "NFL Players Association is no longer interested in even making a public show of concern about violence against women — a point driven home more forcefully during each new NFL draft season." Her piece was a moving, sad, and impassioned plea, imploring NFL fans to remember why they were once so angry that such a commission needed to be formed in the first place. You almost certainly did not hear about it.
It is perhaps not surprising that Epstein's op-ed was, on the whole, completely ignored, by the NFLPA, by the NFL, and by most of the sport's fan base. But it is telling. Much has been made about how little the #MeToo movement has touched the world of sports. There have been a couple of minor events, a pseudo-scandal at the NFL Network, a few media banishments here or there. But on the whole, the professional sports world has mostly evaded being engulfed by the movement. That the world of sports, run and populated almost entirely by men — much to its detriment — would have fewer sexual-misconduct scandals than, say, NPR strains credulity. But it is indicative of the power structure in North American sports that the two major sexual-misconduct stories have come from the world of gymnastics (the horrible Larry Nassar scandal with USA Gymnastics) and the WNBA (where two WNBA All-Stars have spoken out about sexual abuse), two leagues where there are more women participants and thus women have more power. But otherwise: mostly crickets.
In the worlds of politics, media, entertainment, restaurants, being accused of sexual misconduct of almost any form has led to an immediate (if hardly fatal) reckoning, with high-profile men losing their jobs, having their ongoing projects canceled, losing sponsors and prominent positions. But in sports, this has not happened. Not only have there been shockingly few stories that have come out about prominent athletes and sports figures behaving awfully or criminally toward women, but when one does come out, the reaction has been decidedly, profoundly different than in other fields. In December, a Minnesota photographer detailed her experience with Minnesota Twins third baseman Miguel Sano, who she claimed assaulted her in a mall bathroom. Her story was harrowing and persuasive and on a par, or worse, with equally detailed stories about Hollywood and media figures who lost their entire empires. But Sano, following an investigation, was not suspended by MLB and suffered virtually no recriminations whatsoever, either officially or unofficially. There has been no backlash against him at all. Twins fans have been angry with him this year, but because he has had the worst year of his career at the plate, not because of the accusations. He has moved on. So has the team, and so has Major League Baseball.
The sports world, in general, has never quite figured out the right way, if there is a right way, to deal with sexual misconduct or, more often, domestic violence. Rice is the exception that proves the rule. He never played football again after his horrific elevator video was released, but he was near the end of his career and was likely on his way out of the game anyway; had he been a rookie when the incident happened, he almost certainly would have ended up on a team. As Epstein noted in her Washington Post piece, NFL teams drafted several players with histories of domestic violence in April's draft, including Bengals running back Joe Mixon, who punched a woman in the face and was caught on video doing so, and Browns wide receiver Antonio Callaway, who was accused of sexual assault at the University of Florida.
Tampa Bay quarterback Jameis Winston's rape case at Florida State shook the entire sports world and led to a nationwide conversation about sexual assault on campus (as vividly demonstrated in the devastating documentary The Hunting Ground, which features an interview with Winston's victim), but he was drafted first overall in the 2015 NFL draft and never missed a game. As any advocate could have told you at the time, it was unlikely to have been an isolated incident. Winston is now facing a suspension for the upcoming season for a different sexual-assault allegation, that he assaulted an Uber driver in March 2016.
Major League Baseball has its own policy, put into place after the Rice incident, back in 2015. It was recently used against Toronto Blue Jays pitcher Roberto Osuna, who was arrested for assaulting a woman back in May. He was just suspended for 75 games, the third-longest domestic-violence suspension in baseball history, but, as Sheryl Ring of Fangraphs pointed out, Osuna's suspension — which he and his representatives helped construct and ultimately agreed to — expires August 4, which means, theoretically, Osuna could be traded by the July 31 deadline and, in fact, be a more desirable trade candidate because he is damaged goods and not in fact drawing any salary during his suspension. Ring writes:
From a baseball perspective, talented domestic-violence offenders are an opportunity. Obtain the player at a discount, wait for the suspension to be served, trade them at a profit … The new MLB inefficiency, however, probably shouldn't be players whose attractiveness to other teams as a trade asset is increased by a domestic-violence suspension — and, when stated like that, it's difficult not to see the perverse incentive created by the league's policy.
This kind of thinking perversely helps explain a lot more about the structure of sports than you might at first think. For instance, it is why the Yankees currently have Gleyber Torres, the superstar second baseman who's probably going to win Rookie of the Year this year. The Yankees traded Aroldis Chapman — who was under investigation for choking his wife and firing a weapon at her, at a discount in 2015, ultimately waited out his 30-day suspension and built his value back up when they traded him to the Cubs, who were trying to (and ultimately did) win a World Series — for Torres. That the Yankees eventually signed Chapman again anyway to a five-year, $86 million contract, when the heat was off, was the final insult. The Yankees, essentially, timed the fluctuating market of public sentiment involving Chapman's domestic violence to maximize their profit. Ring warns the same thing could happen with Osuna, or any other player.
But that's sort of the rot behind all of this, isn't it? Behind Epstein's frustrations, behind Winston's ability to keep coming back from multiple noxious incidents, behind Chapman's recovering of his market value, behind the difference between sports and other fields. The fact is, sports fans, deep down, don't care about domestic violence and sexual misconduct, at least not so much that they will refuse to support players charged with it in the past if they are able to help their teams in the present. Our popular culture, or at least those in charge of profiting off our all popular culture, came to the conclusion that we should not be watching Kevin Spacey in a movie, no matter how good an actor he was, or Matt Lauer making a soufflé on morning television, no matter how good he was at interviewing reality stars about their cookbooks. Our sports culture, or at least those in charge of it, have not reached that conclusion. When the only goal is winning, it's quite easy to rationalize your morality into "second chances" and "redemption stories." If he plays for another team, he's a monster. If he plays for yours, he has "overcome off-field adversity." If you produce, your crimes will not be forgiven … but they will be forgotten.
One of the major stories of this month's MLB draft was made of Luke Heimlich, an Oregon State pitcher who had been convicted, back in 2012, of molesting his 6-year-old female relative. Heimlich was a first-round talent and former Pac 12 Pitcher of the Year, but despite his talents, not a single team drafted him in any of the draft's 40 rounds. On one hand, this seems like progress, or at least like a clear look at where sports are willing to draw the line: child molestation. (Though Royals general manager Dayton Moore has floated giving Heimlich that proverbial "second chance.") But then again: Heimlich is a college kid with considerable uncertainty about his ability. The odds are against any drafted player ever making the big leagues; Heimlich was a risk anyway, and with the conviction, he became a risk not worth taking. If he were a current Major League pitcher, an effective one, and had that in his past, would he have been so shunned? Maybe that's where the line is drawn; not at child molestation, but at a proven track record of success.
One of Epstein's major complaints was that the NFLPA and the NFL treated domestic violence as a public relations problem rather than what she sees as a "plague." She is not wrong in this, but, all told, the league and the players association might not be either. For all the anger about abusive players, it should be noted that professional athletes are involved in domestic violence disputes at a far lower rate than the general population of men aged 25 to 29. (They actually commit far fewer crimes altogether, at a rate of only 13 percent of the national population of similarly aged men, though their domestic violence rates are higher than other crimes.) The acceptable number of domestic violence incidents is zero, of course, but the idea that professional athletes are somehow more prone to this than regular citizens is untrue and, at the end of the day, probably not indicative of a "plague." That doesn't mean that players involved in domestic violence shouldn't be punished, and severely. And it doesn't mean that Epstein's efforts weren't extremely worthy, or that it's not shameful the way both the league and the players used her for positive headlines and then discarded her when the storm had passed. And it doesn't mean that the leagues (and players, and media) aren't responsible for creating and supporting a culture where domestic violence offenders are allowed to thrive and women are afraid to report their own #MeToo stories within the industry, unless you really do believe professional sports has less sexual misconduct than NPR.
It just means that professional sports leagues do see this as a public relations problem first, and they address it accordingly. Like every other field, sports is incentivized to treat domestic violence and sexual misconduct the way their customers and workers tell them to treat it. As long as fans continue to cheer Aroldis Chapman, or Jameis Winston, or Roberto Osuna, or Floyd Mayweather, teams and leagues will remember which side their bread is buttered on. Until then, leagues and teams will pay lip service and pass down arbitrary suspensions and shake their heads gravely and announce committees that will disband when no one's paying attention five years later. Sports will not change until they are required to. Watch Aroldis Chapman close out a game at Yankee Stadium to 40,000 cheers, or Jameis Winston heading a pregame-highlights hype package, or Floyd Mayweather headlining another $100 million pay-per-view, and you tell me how much pressure you think sports are under to change.