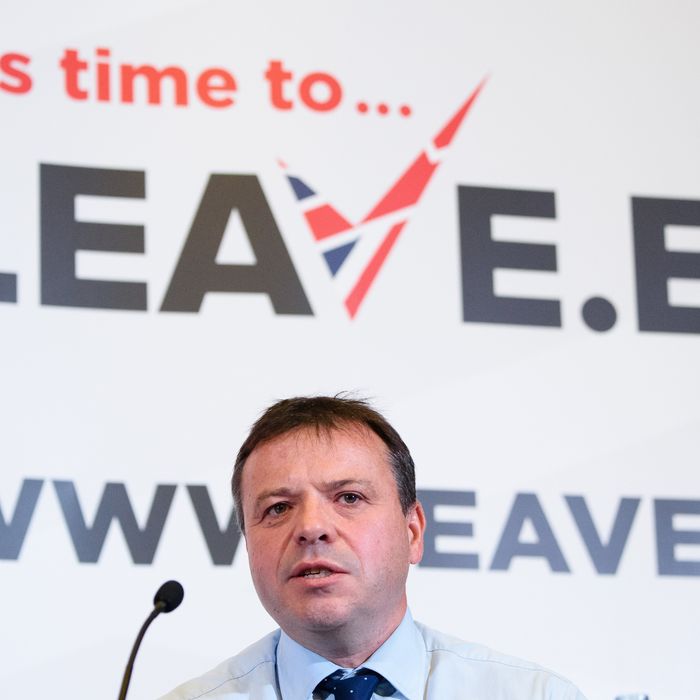 Leave.EU donor Arron Banks at a press conference in November 2015.
Photo: Leon Neal/AFP/Getty Images
Concerns about Russia's election meddling — in the U.K. — reached new heights on Saturday after leaked emails revealed extensive links between one of the top backers of a pro-Brexit campaign and Russian officials. The Observer and Sunday Times of London obtained the some 40,000 emails sent by millionaire businessman Arron Banks, the chief financial backer of U.K. Independence Party leader Nigel Farage's Leave.EU campaign, and Andy Wigmore, Leave.EU's director of communications.
The emails show show that Banks had previously undisclosed meetings with Russia's U.K. ambassador (which were set up by an alleged Russian spy), and had made a previously undisclosed visit to Moscow at the peak of the Brexit campaign. Banks and Wigmore were also offered, at one point, a business deal involving several Russian goldmines that could have been worth a fortune for the men, according to the documents. There is a Trump connection, as the Sunday Times reports that Banks admitted that, months after the Brexit referendum, "he handed over phone numbers for members of Trump's transition team to Russian officials" — though it's not yet clear whose info he handed over, or what became of it.
Banks has donated £1.3 million to the UKIP since 2014, and contributed £6 million to Leave.EU. Both he and Wigmore have denied they played any role in helping Russia influence the Brexit referendum, or that Russia was even trying to do so. Yet starting in 2015, Russia's ambassador to the U.K., Alexander Yakovenko, worked to develop a relationship with Banks and his associate, successfully inviting them to multiple events as the Brexit campaign was underway. At one meeting, they were introduced to Russian mining magnate Siman Povarenkin in regard to the potential goldmine deal. Another meeting may have happened just three days after Banks, Wigmore, and Farage became the first Britons to meet with President-elect Trump on November 12, 2016. That was hardly their first foray into Trump World, either, as noted by the Observer:
[Yakovenko's] invitations continued after the [Brexit] referendum during the time in which Banks, Wigmore and Farage began travelling regularly to America to support Donald Trump's bid for the presidency, according to the documents.




Ambassador Yakovenko met Wigmore and Banks on 19 August, the day Steve Bannon became Trump's campaign manager. It was days before they travelled to Mississippi with Nigel Farage for a rally on 25 August at which Donald Trump introduced him to the crowds as "Mr Brexit". He said a Trump presidency would be "Brexit plus".
Per the Sunday Times, Wigmore said the third meeting with Yakovenko "came three days after the meeting with Trump, but this has not been confirmed," and that "Yakovenko is said to have asked Banks for contact details for Trump's transition team, and was given a number."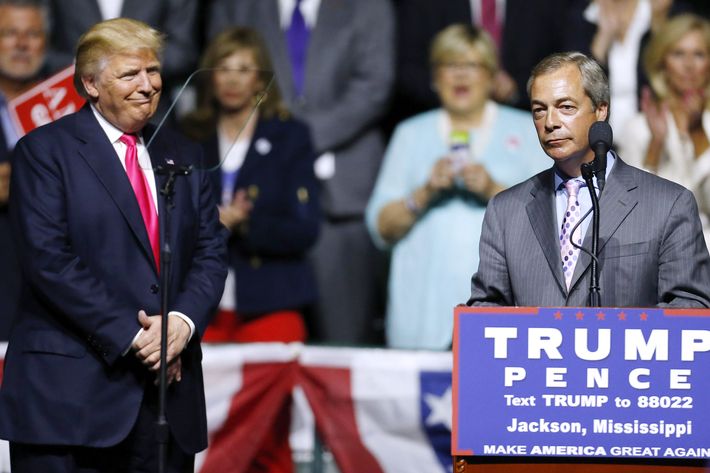 Farage, the UKIP and Leave.EU leader who used Trump-like tactics to drum up populist support for Brexit, has said that he admires Russian President Vladimir Putin more than any other world leader, but it's not clear if he was aware of Banks and Wigmore's Kremlin ties. Banks — whose wife is from Russia — has been defiant in response to the leaked emails, telling the Sunday Times, "I had two boozy lunches with the Russian ambassador and another cup of tea with him. Bite me." Though he and Wigmore reportedly invited Yakovenko to the results-watching party at Leave.EU's headquarters after the referendum (he declined), Banks also echoed President Trump in dismissing any notion of collusion, claiming that, "It's a convenient political witch-hunt, both over Brexit and Trump."
But as Russia expert and Washington Post columnist Anne Applebaum pointed out in a Twitter thread on Sunday, the leaked documents offer good demonstration of how the Kremlin tries to support European political movements that are aligned with its interests:
Russians don't usually give direct funding, [with] the exception being Marine Le Pen's National Front [in France]. Instead, they offer lucrative business deals to high-ranking members of the movement. There is some evidence of this in the case of the Austrian Freedom Party, and also the Italian Northern League. Important point: It's not illegal, or not necessarily. It doesn't break laws on foreign funding for political parties, if they exist. Russian offers of lucrative private deals could be used to make politicians 'pro-Russian,' even if those deals somehow don't work out. That may have been the point of that Trump Tower Moscow negotiation, though we don't know enough about it. Of course, if the deals come through, then the money can be used to finance a political campaign — legally.
Banks and Wigmore will now face questions from a parliamentary committee starting on Tuesday, where more of Leave.EU's shadows may start to receive some sunlight, as the Guardian notes:
MPs on the digital, culture, media and sport committee, who have the protection of parliamentary privilege, had been expected to focus on Banks's links to Russia, including the provenance of his wealth. He is also subject to an Electoral Commission inquiry into the "true source" of his donations. Leave.EU has been fined £70,000 for accounting irregularities. The organisation's chief executive, Liz Bilney, another Banks associate, is under police investigation. 
Whatever happens next, the leaked emails reveal more evidence of Russia's efforts to drive political upheaval in the U.K. and U.S., as well as how influential figures on both sides of the Atlantic have hardly spurned their advances.