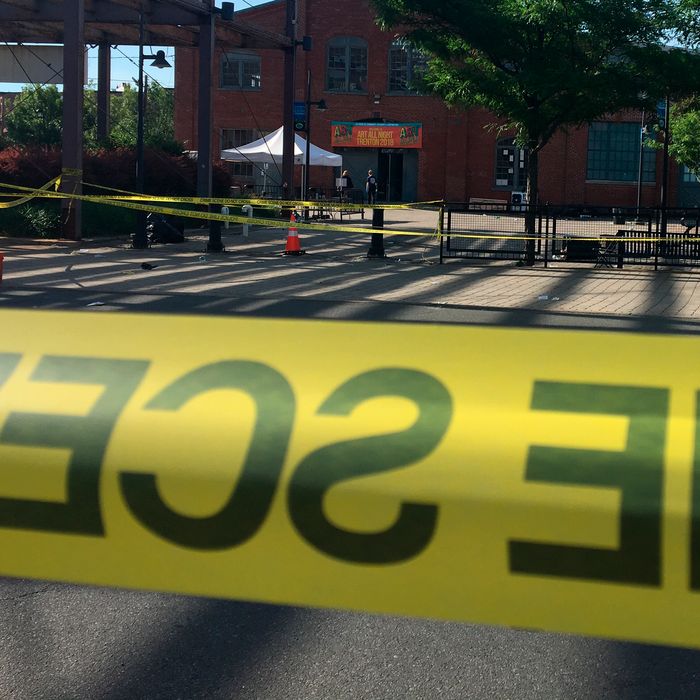 The taped-off scene on Sunday morning.
Photo: Ed Murray/AP
At least two shooters opened fire at an all-night arts festival in Trenton, New Jersey, on Sunday morning, leaving 22 people injured, four critically, and a suspected gunman dead.
Seventeen people were injured by gunshots. The cause of the other injuries wasn't clear, but the gunfire caused mass confusion and panic as people fled the scene into the surrounding streets.
Authorities said that the shooting began just before 3 a.m. Sunday at the 12th annual Art All Night festival, which was held at Roebling Wire Works in the state capital. A 33-year-old man believed to be one of the shooters was shot and killed; another suspected shooter is in custody. About 1,000 people were in attendance at the fair when the violence began, NJ.com reported.
A 13-year-old boy was the youngest among the critically injured victims. He was later upgraded to stable condition.
Mercer County Prosecutor Angelo Onofri said that there was no sign the event had been targeted in advance. "All indications are that this was a dispute between individuals that occurred at Art All Night," he told reporters.
Police later said that a gang dispute led to the shootings, and that the suspect killed by police had recently been released from prison.
Festival organizers said the remainder of the event, which was to stretch into Sunday afternoon, would be canceled.
The events had featured art installations, food vendors, and more. One of the booths was staffed by Moms Demand Action for Gun Sense in America, a prominent gun-reform group.
"All shootings, whether large or small, are a crisis," Trenton Mayor Eric Jackson said. "This isn't just a random act of violence. This is a public health issue."