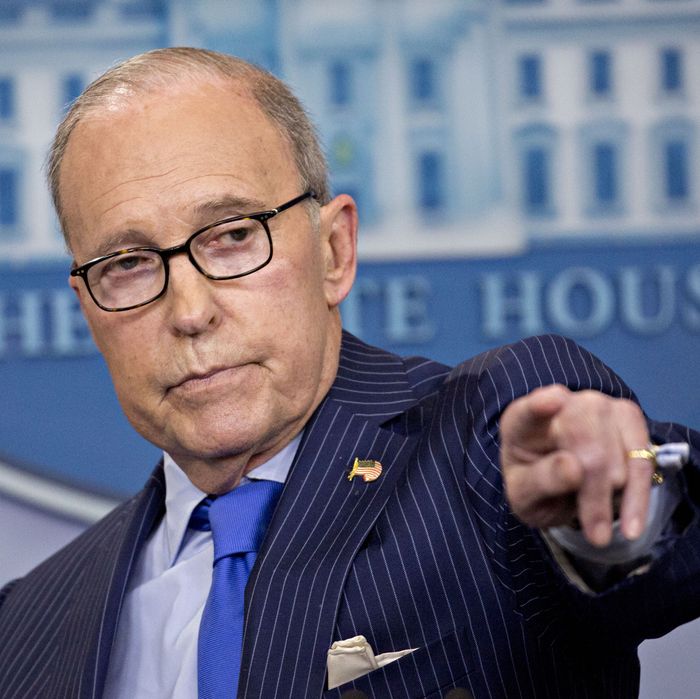 Larry Kudlow at a press briefing on June 6, 2018.
Photo: Andrew Harrer/Bloomberg via Getty Images
Larry Kudlow, the top White House economic adviser, has suffered a heart attack and is being treated at Walter Reed Medical Center.
President Trump announced the news while heading to his meeting with North Korean leader Kim Jong-un.
White House press secretary Sarah Huckabee Sanders said in a statement that it was a "very mild heart attack," and Kudlow's doctors "expect he will make a full and speedy recovery."
Kudlow's friend Stephen Moore, of the Heritage Foundation, told Politico that he believes he will be okay. "He was burning the candle at both ends," Moore said.
Kudlow replaced Gary Cohn as director of the National Economic Council in March, and he's thrown himself into promoting Trump's trade policies. Kudlow, who is a smoker, had reportedly told people he was surprised at how stressful the job was, partly due to White House infighting.
Colleagues told the New York Times that they had been concerned about Kudlow's health because he appeared tired and unusually frail during preparations for the G7 summit. He traveled to Canada along with the president, and then played a key part in Trump's feud with Justin Trudeau, angrily denouncing the Canadian prime minister on the Sunday shows.
Kudlow hadn't been responding to colleagues' calls and emails on Sunday, and he was home sick for part of the day on Monday. Kevin Hassett, the chairman of the White House Council of Economic Advisers, called Kudlow "the salt of the earth, and a true patriot," on Monday night, adding, "Our thoughts and prayers are with him and his family tonight."