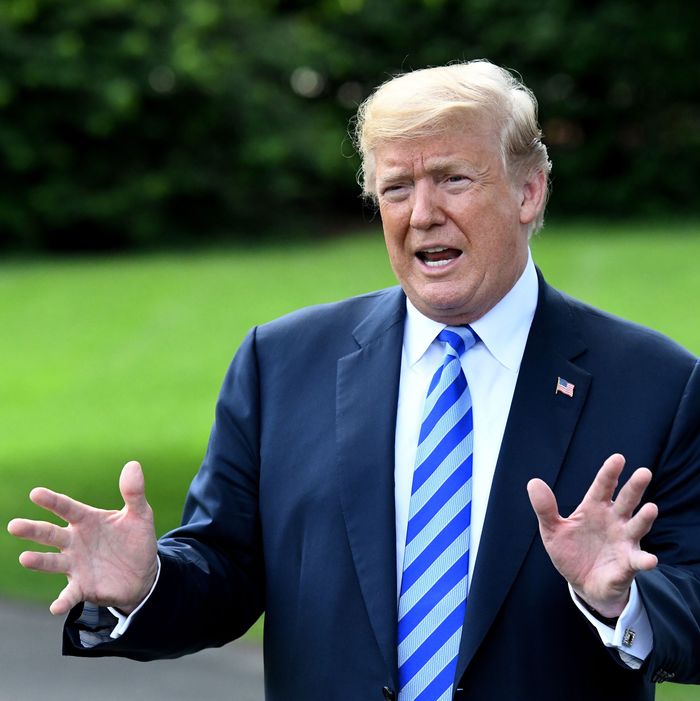 Would this man lie?
Photo: Olivier Douliery-Pool/Getty Images
For the second time in two weeks, President Trump lied and said that his administration's policy of separating children from their parents at the U.S.-Mexico border is actually all Democrats' fault.
This claim, as it was the first time he tweeted it, is complete bunk. It was the Trump administration that made the choice to separate parents from children as a deterrent to immigrants, in an unprecedented policy that had the president's fingerprints all over it. Trump didn't even bother to make clear the Democratic law that ostensibly forced his hand on the issue, because one does not exist.
Democratic lawmakers were quick to point out the absurdity:
If anything, Trump's tweet just proves that outrage over the draconian policy isn't going away.
On Sunday night, Oregon Senator Jeff Merkley filmed himself attempting to enter a repurposed Walmart in Texas in which children separated from their parents are being housed. Operators at the facility, which is run by the Office of Refugee Resettlement, turned Merkley away. The White House then issued a bracing statement, accusing Merkley of "irresponsibly spreading blatant lies" and supporting immigration policies that allow "criminal aliens to flood into American communities."
The United Nations human-rights office has called on the Trump administration to "immediately halt" the family-separation policy, a plea that is likely to fall on deaf ears.
Attorney General Jeff Sessions, who formally announced the family-separation policy in May, defended it to MSNBC's Hugh Hewitt on Tuesday morning, claiming that most of the children in question were teenagers, not infants, and emphasizing his harsh view of illegal immigration:
Also on Tuesday, NBC reported that "border agents and child welfare workers are running out of space to shelter children who have been separated from their parents," and that out of the 550 children who have currently been held longer than 72 hours, 300 were under the age of 12.