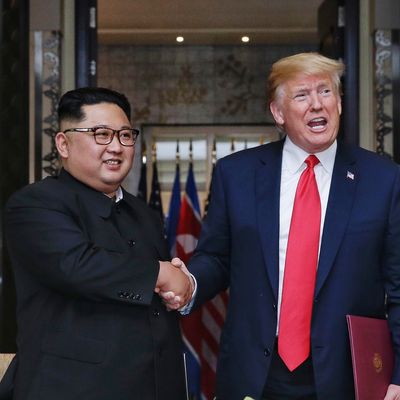 If only there were some way to keep a record of what they said.
Photo: Handout/Getty Images
As foreign policy analysts try to predict the next steps after President Trump's historic meeting with North Korean leader Kim Jong-un on Tuesday, they're running into a problem: the two leaders can't seem to provide a consistent account of what they agreed to in Singapore.
While Trump claimed he'd reached a "very, very comprehensive" agreement with Kim, from the start, he and his team were vague about what actually occurred at the summit. The document signed by the two leaders was not immediately released; it basically said the two sides want to "denuclearize" the Korean Peninsula, but offered no details. At a press conference just before leaving Singapore, Trump said Kim will start dismantling his nuclear arsenal "very quickly"; he noted that he wants U.S. troops out of South Korea "at some point"; he'll visit Pyongyang "at a certain time." The president would not elaborate on these hazy measures of time.
Even worse, Trump surprised South Korea and even other U.S. officials when he appeared to announce a U.S. concession that was never mentioned publicly when he was with Kim: the suspension of the U.S.–South Korea joint military exercises that take place every year. The office of South Korean President Moon Jae-in said they did not know Trump's "exact meaning or intentions," and several lawmakers suggested U.S. military leaders were in the dark as well.
Now it appears the North Koreans are trying to seize on this confusion to put forth a favorable summit narrative — or rather, one even more favorable than "U.S. president legitimizes North Korean dictator." On Wednesday North Korean state media said that in addition to suspending joint military drills, Trump agreed to lift sanctions against North Korea.
A report from the Korean Central News Agency, North Korea's state news agency, said Trump agreed to "lift sanctions … along with advance in improving the mutual relationship through dialogue and negotiation."
At his press conference immediately after meeting Kim, Trump said sanctions would not be lifted until denuclearization reached "a certain point." He did not elaborate on the timeline, but suggested it wouldn't be soon, saying, "They'll come off when we know we're down the road."
Secretary of State Mike Pompeo offered a clearer statement on the eve of the summit, saying sanctions would remain in place until Pyongyang delivered "CVID" — meaning complete, verifiable, irreversible denuclearization. "The V matters," he told reporters.
There have been inconsistencies in remarks from other top U.S. officials on whether sanctions will only come after complete denuclearization, or may be eased along the way.
A report in North Korea's Rodong Sinmun newspaper, another state-run outlet, claimed on Wednesday that the U.S. agreed to offer rewards as North Korea moved toward ridding itself of nukes.
"Kim Jong-un and Trump had the shared recognition to the effect that it is important to abide by the principle of step-by-step and simultaneous action in achieving peace, stability and denuclearization of the Korean peninsula," the report said.
Kim was quoted as saying that if the U.S. takes "genuine measures for building trust," then the North can reciprocate in a "commensurate" fashion — suggesting that the U.S. will have to make concessions before North Korea.
KCNA also mentioned the end of U.S.-South Korean military exercises, framing it as Trump agreeing to a request from Kim. The report said Kim told Trump "that it is urgent to make bold decision on halting irritating and hostile military actions against each other." Then Trump "expressing his understanding of it," said he intends to end this "provocation."
While Trump has said his "maximum pressure" campaign is what led to the summit, KCNA suggested that Trump credited Kim for the detente.
"President Trump appreciated that an atmosphere of peace and stability was created on the Korean Peninsula and in the region, although distressed with the extreme danger of armed clash only a few months ago, thanks to the proactive peace-loving measures taken by the respected Supreme Leader from the outset of this year," the report said.
Of course, it's no surprise that North Korean outlets would paint a picture of Kim dictating to the American president, but the factual discrepancies in the two accounts are exactly why there were concerns about Trump and Kim talking one-on-one, with only their interpreters present. Even in cases where the U.S. president has studied his briefing materials, unlike Trump, having others present can prevent a situation where the two nations disagree about what promises were made.
It appears even Trump was unclear on whether there was any record of his 40-minute talk with Kim. During his press conference in Singapore, he turned to Pompeo when asked if there was a transcript.
"Mike, do they have a transcript? You can give it out," Trump said, according to the official White House transcript. "They did not record it. I don't think they are recording it. Are there recordings of it? I wish there were. It is interesting stuff. I don't. We probably have some notes or something. They have actually detailed notes I imagine."
As Business Insider explains, notes taken by the U.S. interpreter might be the closest thing we have to a transcript of the talk. Any notes will be turned into a Memorandum of Conversation, possibly just a summary of the conversation, and provided to the National Archives.
Even if there's no record, Trump assured reporters that it's no big deal. "Well, I don't have to verify because I have one of the great memories of all time. So I don't have to. Okay? Okay?" he said.