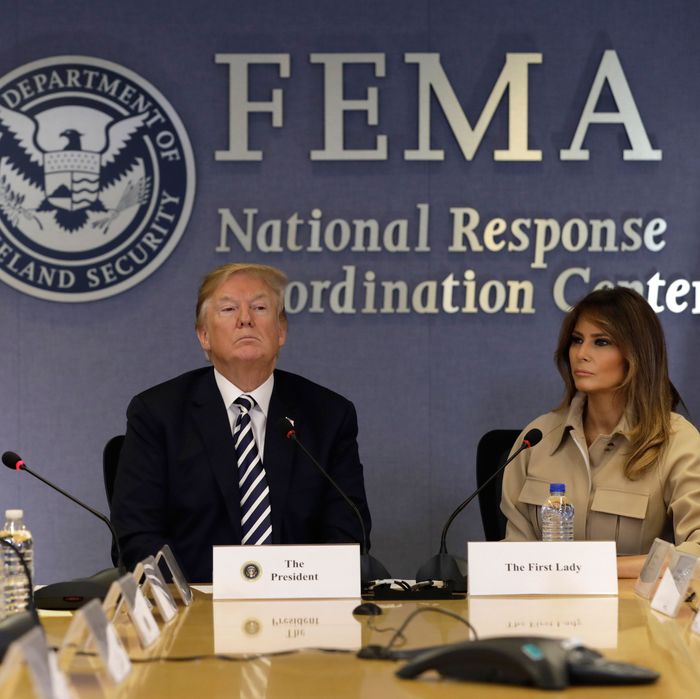 Trump at FEMA Wednesday.
Photo: Yuri Gripas/Bloomberg via Getty Images
President Trump and Vice-President Pence visited the Federal Emergency Management Agency on Wednesday and lavished the agency with praise for its work in 2017, making no mention of the recent study that put the death toll in Puerto Rico after Hurricane Maria at 4,645.
"We really appreciate the job you've done," Trump told FEMA officials, whom he praised for leaping "into action to coordinate the response."
"I want to thank you very much," he said.
Pence added that FEMA is as ready for the 2018 hurricane season as it was in 2017. "We are prepared, just as we were last year, with those historic and unprecedented hurricanes," he said. "I also want to commend all of the agencies represented here for the job that was done last year."
Puerto Rico came up only once in Trump's remarks as he listed the locations of last year's devastating storms. "Families in Texas and Louisiana, the U.S. Virgin Islands, Puerto Rico, Florida, South Carolina, Georgia, Alabama, Mississippi — they were all affected, hard to believe — and on tribal lands, where the hit was catastrophic and the storms were really historic in their severity. But in the wake of such tragedy, we also witnessed the resilience of the American people," he said.
But just one week after a Harvard study determined that 4,645 people in Puerto Rico died in the storm and its aftermath, Trump said nothing about the federal government's woeful response to Maria. Similarly, White House Press Secretary Sarah Sanders praised FEMA Tuesday when she was asked about the federal government's response to Maria. Sanders said the response was "at a historic proportion" and claimed the government did the "best it can do."
As Trump praises FEMA and the new hurricane season begins, his administration is coming under increased criticism for the conditions in Puerto Rico and for the coming end to FEMA's temporary housing program, which is providing housing assistance to around 2,300 families forced out of their homes by the storm.
"It wasn't the hurricane that destroyed these lives. It was the fact that the Trump administration could not get their stuff together enough to save these Americans," Representative Ruben Gallego said at a press conference called by the Congressional Hispanic Caucus, which is pushing for a 9/11-style commission to investigate the failed response to Maria.
"We need an analysis of how this low death count may have shaped the inadequate federal response," Representative Nydia Velázquez said. "Today, I am calling for the establishment of an independent commission similar to what we had after 9/11, to examine the death toll, the federal response and how FEMA and other agencies may have responded sluggishly based on artificially low numbers."