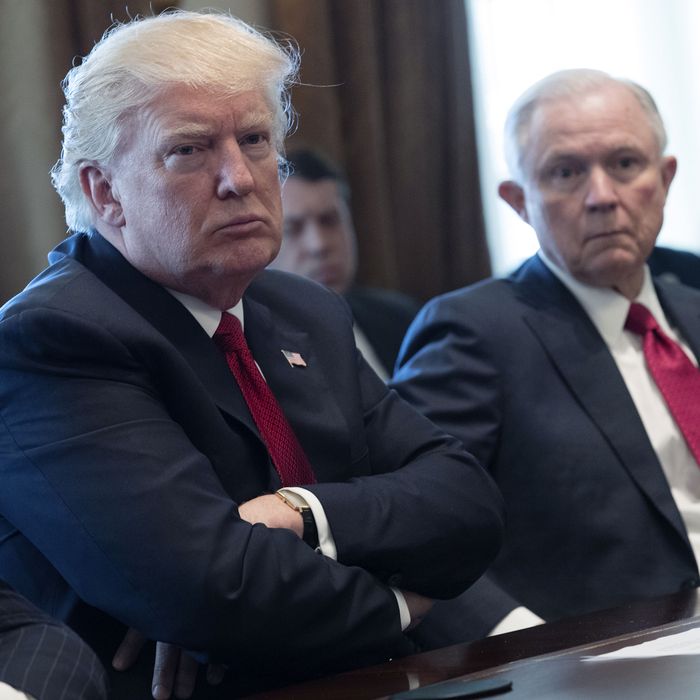 Frenemies.
Photo: SHAWN THEW/Bloomberg via Getty Images
President Trump has not been shy about publically airing his anger at Attorney General Jeff Sessions for recusing himself from the Russia investigation. Most recently, he put the blame for the continuation of the "Witch Hunt Hoax" squarely on Sessions's tiny shoulders.
In private, Trump is just as angry at Sessions but he expresses it in a different way, the AP reports.
Trump has taken to not even saying Sessions' name out loud while in the White House, according to two officials, a practice several of his senior aides have adopted.
That Trump would deal with his anger like a petulant 6-year-old is little surprise, but why would those surrounding him following his lead? Because even hearing Sessions's name is enough to spark a pouty hissy fit from the 71-year-old president.
On Thursday, Trump was on Air Force One returning from a trip to Texas, reveling in both a successful day of fundraising and the heads-up he had received from economic adviser Larry Kudlow that the next day's jobs report would be positive.




But when an aide mentioned Sessions, Trump abruptly ended the conversation and unmuted the television in his office broadcasting Fox News, dismissing the staffer to resume watching cable, according to a person familiar with the exchange.
It turns out that the feeling of animosity between Trump and Sessions may be mutual. A Washington Post story Tuesday about Sessions's determination to keep his job included this anecdote about the attorney general's inability, or unwillingness, to speak his boss's name in a recent speech:
His prepared remarks called for him to single out, by name, the man who had appointed him to his job. But as he highlighted the problem of fraud against the elderly and approached the pivotal line, he stumbled.




"But in," Sessions said, pausing to look down at the table in front of him, "this administration, we're not going to tolerate it."




His written remarks called for him to say, "But in the Trump administration, we're not going to tolerate this."
Jefferson Beauregard Sessions III, welcome to the resistance.