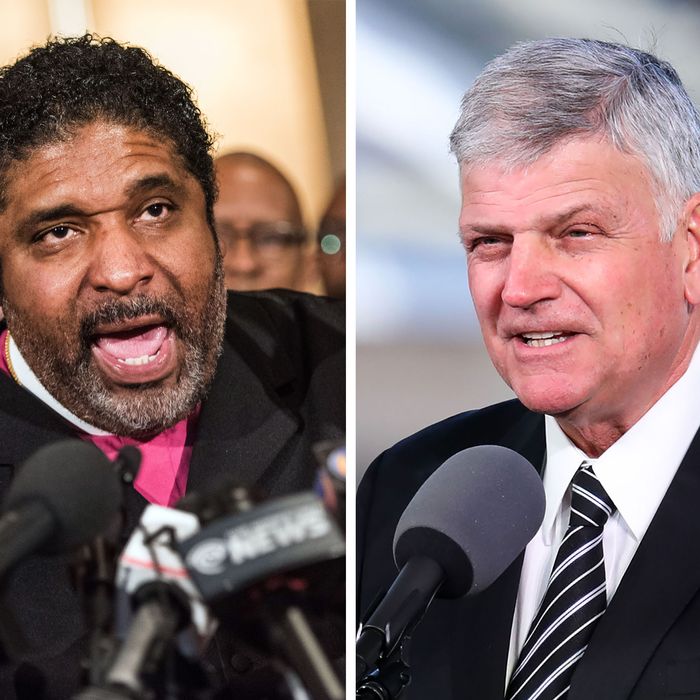 Any policy that offends both William Barber II and Franklin Graham must be pretty bad.
Photo: Sean Rayford/Getty Images; Logan Cyrus/AFP/Getty Images
There's no question that Donald Trump's ability to sell himself in 2016 to a particular religious community, white conservative Evangelical Protestants, was critical to his nomination and election as president. There are signs that on one issue, immigration policy, he is in danger of alienating them.
In fact, Trump's policies seem to be creating a really unusual degree of agreement between conservative Evangelical leaders and people in other faith communities that are usually at odds with both Evangelicals and with Trump.
A 2017 survey of 130,000 U.S. clergy was summarized by the New York Times as indicating remarkably deep divisions:
America's pastors – the men and women a majority of Americans look to for help in finding meaning and purpose in their lives – are even more politically divided than the rest of us, according to a new data set representing the largest compilation of American religious leaders ever assembled.




Like their congregants, religious leaders have sharply divided themselves along political lines. Leaders and congregants of Unitarian and African Methodist Episcopal churches are overwhelmingly Democratic, as are those of Reform and Conservative Jewish synagogues. Those of several Evangelical and Baptist churches are overwhelmingly Republican. If religious denominations were states, almost all of them would be considered "Safely Democratic" or "Safely Republican," with relatively few swing states.
That is why the current outpouring of outrage and protests by religious leaders across the theological and political spectrum (check out this Twitter thread keeping up with them by Jack Jenkins of the Religion News Service) in reaction to the Trump administration's policy of sequestering the children of undocumented migrants at the border while their parents are being prosecuted is remarkable. It has all but united the faithful, at least in the pulpits if not necessarily in the pews.
Some of the reactions are predictable. Prominent progressive clergyman William Barber II of the Poor People's Campaign called Jeff Sessions's biblical defense of the administration's policy "heresy." An early protest from 20 "interfaith leaders" included Jewish and Muslim leaders and an assortment of mainline Protestants. Among the mainliners, very pointed statements have been issued by Jeff Sessions's United Methodist Church:
The denomination to which Donald Trump more or less belongs when he's not worshipping golden calves, the Presbyterian Church USA, issued its own statement, which ended with this rather unconditional demand:
In the name of God of Abraham, Isaac and Jacob, in the name of our Lord Jesus Christ: Stop!
The staunch opposition of the Roman Catholic Church to the administration's policies was also somewhat predictable given that communion's long-standing identification with immigrant rights and the Catholic affiliation of so many of the people affected by the "zero tolerance" policy. But still, a statement from the Catholic Bishops not only condemned separation of families but denied Trump's claim that Democrats were at fault:
Our government has the discretion in our laws to ensure that young children are not separated from their parents and exposed to irreparable harm and trauma. Families are the foundational element of our society and they must be able to stay together.




Separating babies from their mothers is not the answer and is immoral.
But the really striking thing is that conservative Evangelical leaders have joined the parade of protests. Back on June 1, the president of the National Association of Evangelicals, Leith Anderson, signed a letter to Trump, along with Hispanic Evangelical leader Samuel Rodriguez (who prayed at Trump's inauguration) and Southern Baptist spokesman Russell Moore, that rejected the administration's rationalizations:
While illegal entry to the United States can be a misdemeanor criminal violation, past administrations have exercised discretion in determining when to charge individuals with this offense, taking into account the wellbeing of children who may also be involved. A "zero tolerance" policy removes that discretion—with the effect of removing even small children from their parents. The traumatic effects of this separation on these young children, which could be devastating and long-lasting, are of utmost concern. 
Russell Moore has been a frequent Trump critic, but this time he wasn't speaking as a Baptist dissident. The full Southern Baptist Convention, meeting in Texas last week, passed a resolution that among other things called for making "family unity" a touchstone of immigration policy and denouncing "any form of nativism, mistreatment, or exploitation [as] inconsistent with the gospel of Jesus Christ."
But so far the most remarkable statement came from one of Trump's most fervent, and most important, conservative Evangelical supporters, Franklin Graham. Yes, he helped his president a bit by accusing past political leaders of helping to create the current situation. But in the end he was appropriately judgmental:
Evangelical leader Franklin Graham, son of "America's pastor" Billy Graham and a prominent Trump supporter, told the Christian Broadcasting Network on Tuesday, "It's disgraceful, and it's terrible to see families ripped apart and I don't support that one bit."
This should be a bright flashing red sign to Team Trump that a strategic retreat from the "zero tolerance" policy is in order. But it's a pretty good sign that faith leaders can spot evil when they see it, and agree on calling it out.