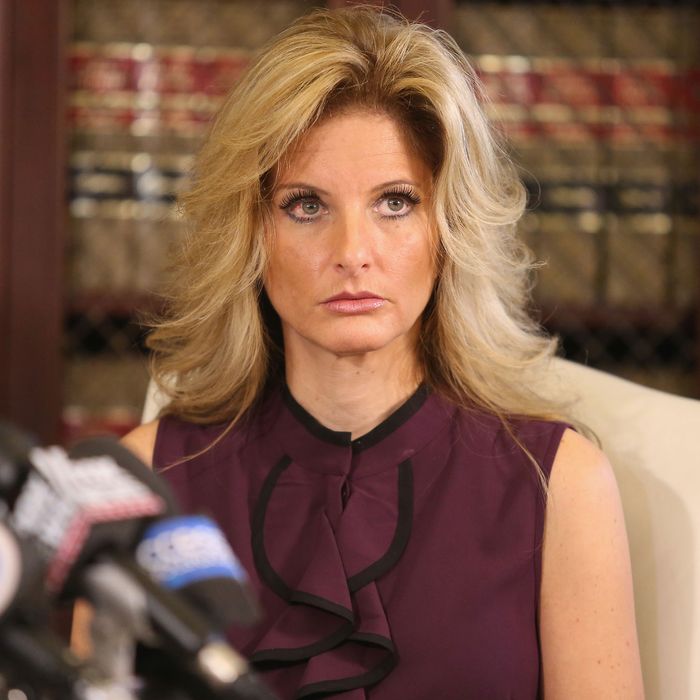 Summer Zervos, the former
Apprentice
contestant who is testing Donald Trump's "above the law" posture in a defamation case.
Photo: Frederick M. Brown/Getty Images
In one of many battles that lawyers for the president of the United States are waging with the U.S. legal system, they've just suffered a setback. Acting New York Supreme Court Justice Jennifer Schechter ruled that the president must submit to a deposition in a defamation case filed by Summer Zervos, one of the assortment of women who have accused Trump of sexual misconduct. Politico has the story:
A judge ruled Tuesday that President Donald Trump can be deposed in a defamation lawsuit brought last year by Summer Zervos, a former contestant on "The Apprentice" who says Trump kissed and groped her after she appeared on the show …




Schechter ordered both parties to submit to depositions … with a deadline of Jan. 31, 2019.
Trump, of course, is denying these allegations like all the others, but doesn't want to have to make a statement under oath (or for that matter, submit to a seven-hour deposition session). So as part of his legal team's general "the president can't be sued" line of attack, they are appealing Schechter's order to the New York Court of Appeals (a higher court than the Supreme Court in the state's eccentrically labeled system). They are also trying to narrow the scope of any deposition in the Zervos case to avoid questions about other women who have accused Trump of misconduct, and to keep the proceedings sealed from public view.
There's no telling what sort of legal or political condition the president will be in when January 2019 rolls around, and even if he loses on other fronts, delays seem likely. If he wins on the proposition that he can't be sued in state courts while in office, he will, as Shechter said in rejecting this argument in March, effectively be "above the law." That's most definitely where he wants to be. In the famous 1997 case of Clinton v. Jones, a unanimous Supreme Court held that Bill Clinton has no general immunity from civil litigation while serving as president. Trump's lawyers are claiming the Supremacy Clause of the U.S. Constitution prevents that precedent from applying to state judicial proceedings.
The Zervos defamation suit arises from an alleged incident in 2007 which she publicly disclosed in October 2016. Trump, of course, threw Zervos's allegations into the same over-brimming basket of those made by more than a dozen women around that time, and described them as fabricated and possibly procured by his political enemies. In January of 2017, Zervos sued Trump for defaming her with these comments. The president may yet regret his loose words (not to mention the alleged loose behavior). But first he will have to be brought to the bar of justice, and the litigation in this case could determine whether that will happen.