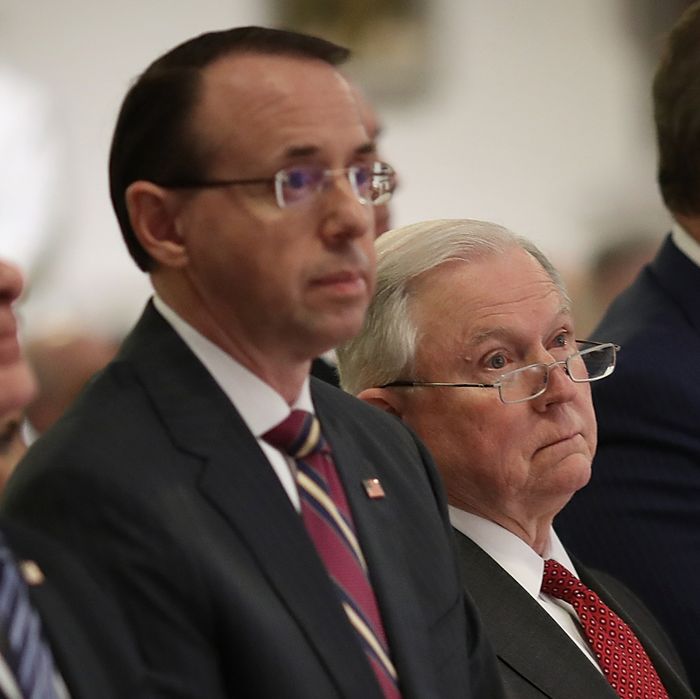 No one wants to join this happy crew.
Photo: Win McNamee/Getty Images
There's an open position at the Justice Department that's high profile, has a lot of potential for advancement, and could even offer an opportunity to change the course of U.S. history. The Trump administration can't seem to fill it, probably because the president has made it clear there's a good risk of becoming the next target of his ire.
As President Trump continues to denigrate Attorney General Jeff Sessions on Twitter, and his allies in Congress lay the groundwork for him to fire Deputy Attorney General Rod Rosenstein, the number-three position at Justice Department has been vacant since Rachel Brand stepped down in February. The official reason given for her departure was that she could not pass up the top legal position at Walmart, but NBC News reported that she told friends she felt "overwhelmed and unsupported" in the job, and feared she would be asked to oversee the Russia investigation.
The Wall Street Journal reported that the Trump administration has put filling the associate attorney general position on the back burner after several candidates expressed similar concerns. Since Sessions has recused himself, if Rosenstein were to do the same oversight of Special Counsel Robert Mueller's probe would fall to the associate AG. In a Saturday Night Massacre situation, the number-three official could easily wind up as acting attorney general.
Since the associate attorney general position has been filled by an acting official, Jesse Panuccio, since February, Solicitor General Noel Francisco is currently next in line to oversee the Russia probe. That may be advantageous for Trump. Francisco has an expansive view of executive privilege and expressed doubts about the role of special counsels in 2007, saying, "My own personal belief is that when you hand these issues off to the career prosecutors in the public integrity sections in the U.S. attorneys' offices in the Department of Justice, those attorneys are generally better able to assess whether a case should be pursued."
However, it does not seem that the administration is taking that into consideration. The Journal reports that officials did make an effort to recruit a new associate AG, informally approaching at least three potential candidates. They all said they wouldn't be interested in taking the job right now.
Vacancies in the Justice Department have consequences that go far beyond the Russia probe. The associate attorney general position is much more low-profile; their work focuses on overseeing the DOJ's civil work. Department officials say their work is being hampered by an unusually high number of vacancies in other top positions as well, including at the top of the criminal, civil, and tax divisions.
The administration is said to be shifting its focus to filling these positions, but they're likely to face the same issues. Some of Trump's nominees for these positions have been awaiting Senate confirmation for months. Even if they were to find someone who wants to be associate attorney general, their confirmation process would likely be bogged down by questions about the Russia probe and Trump's conspiracy theories about DOJ corruption.
Trump's reality-TV approach to management and the legal risks associated with being in his orbit have led to unprecedented vacancies throughout his administration. Some nominees have had their confirmation held up by the Senate, and on Tuesday Majority Leader Mitch McConnell canceled the August recess to address the backlog (among other reasons). But after more than 16 months in office, Trump has also yet to nominate anyone for 204 of the 665 positions that require Senate confirmation.
Things have gotten so bad that Trump is even having trouble finding people willing to help him prepare for an interview with Mueller, which may not even happen.