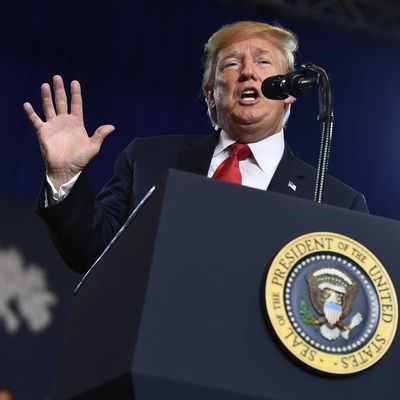 Trump at Monday's rally in West Columbia, South Carolina.
Photo: MANDEL NGAN/AFP/Getty Images
It has become abundantly clear that Donald Trump is taken not only with his skeletal diplomacy with North Korea, but also with the communist kingdom's entire social model, which he has been praising to anybody who will listen. Trump loves the North Korean state media, the "fervor" demonstrated by its people for their leader upon pain of death, and the way Kim Jong-un's advisers sit up in attention for him (also upon pain of death). At his rally in South Carolina Monday night, Trump seemed to recognize similarities between his communication style and the North Korean regime.
"They took down anti–United States signs all over North Korea," he said. "They're down. They took 'em down. Anti-U.S. signs, like I put up anti-media signs all over the place."
Well, yes, Trump's method for discrediting the news media is quite similar to North Korea's method of discrediting the United States. How unusually insightful of Trump to recognize the parallels, which would normally discomfit a democratically elected official.
Also at the rally, Trump once again declared the media "the enemy of the people," borrowing a classic communist regime term of abuse for any class that the state was murdering in large numbers, or planned to. And, at the end of a riff praising the wonderfulness of his base, he approvingly cited a supporter who appeared on CNN and, when asked what Trump could conceivably do to risk her support, proudly declared "nothing." North Korean–style fervor, and without even having to murder anybody to achieve it!