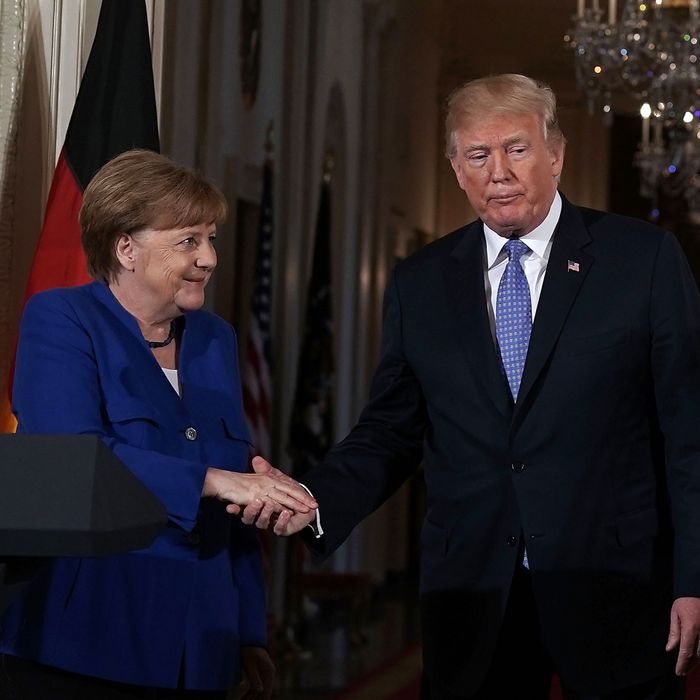 Trump doesn't like Merkel, but his open hostility could be a political gift to her at a difficult time.
Photo: Alex Wong/Getty Images
Donald Trump and his friends really don't like German Chancellor Angela Merkel. She's the leader of a country and a European Community that he regards as inveterate migrant-coddlers and trade cheats; a chief obstacle to his larger strategic goals with respect to Iran; and an enemy of his tacit ally Russia. They also famously lack chemistry, and represent diametrically opposed poles in the debate over the future of the G7. And the relationship isn't getting better, particularly with Trump's renewed threats to impose tariffs on European luxury cars, especially those manufactured in Germany.
But POTUS seems to have decided not only to dislike Merkel, but to help topple her from power back home. According to HuffPost, Trump is actively working with Merkel enemies ranging from her anti-immigrant domestic opponents to regional foes like Hungary's Viktor Orbán and Putin himself. And the plotting is a big preoccupation in the White House:
The key players are hard to identify, but their number includes the president himself, national security adviser John Bolton, former White House aide and ongoing Trump defender Steve Bannon and powerful Trump whisperer Stephen Miller, who attacked Hillary Clinton during the 2016 presidential campaign by calling her "America's Merkel."
And their chief emissary in Germany has not made Washington's disdain a secret:
[A month ago, Trump's] ambassador in Berlin, Republican operative Richard Grenell, had dinner with a hard-line and rebellious member of Merkel's party, health minister Jens Spahn. Spahn wants Merkel's job, and after his husband posted the image on Twitter, it drew attention and "as much astonishment as derision" in pro-Merkel Facebook groups, King's College London lecturer Alexander Clarkson told HuffPost.




German distrust of Grenell grew just weeks later when he told Breitbart he wanted to "empower" hard-right activists around Europe who were dissatisfied with their countries' political leaders.
And most recently, of course, Trump intervened personally in German politics with this tweet:
This could only be interpreted as encouragement to Merkel's right-wing coalition partner, the Christian Social Union in Bavaria, to carry out its threats to sink Merkel's government over her asylum policies at a time when she's secured a short grace period to negotiate a common policy for the EU.
But it could all backfire, as the Los Angeles Times observes:
"It could well help Merkel in this situation that Trump has attacked her at home," said Thomas Jaeger, a political scientist at Cologne University. "Even though some people may say privately 'Trump probably has a point,' it's outrageous behavior. What he's saying sounds like what the far-right in Germany says. It doesn't go down well with most people."




Jaeger said he expects conservative members of Parliament will face increasing pressure to rally around Merkel because of Trump's meddling.




A survey released last week by the Infratest Dimap institute found that 74% of Germans fear Trump is a threat to peace and global security.
If you want a good recent example at how a Trump attack on a national leader can give them a new lease on political life, consider what happened to Canada's Justin Trudeau after the big bully to the south of his country mocked and criticized him:
Canada's House of Commons on Monday unanimously condemned the personal attacks on Prime Minister Justin Trudeau by U.S. President Donald Trump and his surrogates as the famously polite nation simmered over the weekend broadsides by its U.S. ally….




While the agreement of legislators who are normally opposed on most fronts was remarkable, the anger also spread to pundits, officials, celebrities and ordinary citizens as Canadians vowed consumer boycotts of American goods and brainstormed insults of Trump on social media. 
If Trump accidentally saves Angela Merkel's political bacon as well, we could soon see a parade of embattled political leaders from around the globe lining up to be insulted and threatened by our president. Perhaps he should try some reverse spin and embrace those he would destroy.