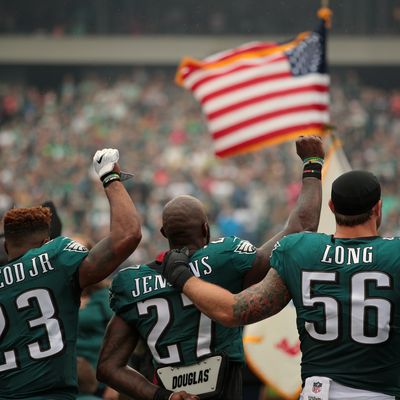 Philadelphia Eagles didn't kneel during the anthem last season.
Photo: Rich Schultz/Getty Images
President Trump ratcheted up his feud with the NFL on Monday night, announcing that Super Bowl champions the Philadelphia Eagles are no longer invited to the White House because many players were skipping the event in protest.
While Trump is convinced that the battle over NFL players protesting during the national anthem is a winning issue for him, it appears he was also trying to avoid personal embarrassment. The New York Times reported that fewer than ten members of the team were planning to attend Tuesday's celebration, which would usually include dozens of players and coaches.
In a statement issued by the White House, Trump said fans are still invited to attend a "different type of ceremony," that will "pay tribute to the heroes" in the U.S. military and "loudly and proudly play the national anthem."
Trump suggested the boycott was entirely about his insistence that players stand for the anthem and honor the military.
"They disagree with their president because he insists that they proudly stand for the national anthem, hand on heart, in honor of the great men and women of our military and the people of our country," Trump said. "The Eagles wanted to send a smaller delegation, but the 1,000 fans planning to attend the event deserve better."
Later on Monday night, Trump posted a confusing tweet referencing the NFL's policy of allowing players to either stand on the field for the anthem or stay in the locker room. The NFL's attempt to placate the president was only introduced last month, so no player has had the opportunity to violate it.
Several top players, including Chris Long and Malcolm Jenkins, announced months ago that they had no intention of attending the White House event, pointing to Trump's divisive rhetoric and policies. In a recording of the NFL owners' October meeting on the anthem protests, which was obtained by the Times, Eagles owner Jeffrey Lurie called Trump's presidency "disastrous."
"Another fact I want to throw out there: Many of us have no interest in supporting President Trump," he added. "Yes, there are some. There are some players who do, too."
A senior White House official told the Times that more than 80 members of the Eagles team had requested security clearance to attend the event, but after the NFL announced its new policy, that number dwindled to less than a dozen. Trump found the meager turnout unacceptable, according to aides.
Former Eagles wide receiver Torrey Smith rejected Trump's suggestion that the protests against police brutality and racial inequality were an attack on the military and the flag. He also noted that none of the Eagles' players took a knee or sat during the anthem last season (though a few raised a fist while standing).
Philadelphia mayor Jim Kenney responded with praise for the team and pointed criticism for Trump. "Disinviting them from the White House only proves that our president is not a true patriot, but a fragile egomaniac obsessed with crowd size and afraid of the embarrassment of throwing a party to which no one wants to attend," he said.
Pennsylvania senator Bob Casey, a Democrat, said he'll skip Tuesday's ceremony and invited the team to visit Congress.
This is not the first time Trump has grown incensed over athletes' lack of interest in meeting him. Last September the NBA's Golden State Warriors said Trump "made it clear that we are not invited," after he disinvited Stephen Curry, who said he didn't want to celebrate his team's NBA title with the president. The Washington Post reports that Trump also had a meltdown over last year's Super Bowl celebration when he learned his pal Tom Brady wouldn't be in attendance:
Trump grew angry in April 2017 when Tom Brady said he planned to skip the White House visit with the Patriots, huddling angrily with aides and even calling Patriots owner Robert Kraft. One former senior administration official described a chaotic scene unfolding over the heartlands of America, as Trump flew back from an event in Wisconsin. Some aides feared Trump was going to cancel the celebration, even though he maintains a close friendship with Kraft.




Brady later said he skipped the event to be with his ailing mother, while another half-dozen Patriots skipped to protest Trump. 




Eventually, Trump was calmed down, and the Patriots came to the White House.
If displaying a MAGA hat in one's locker and implementing a leaguewide protest ban can't inoculate the NFL from Trump's wrath, maybe it's time to go with other tactics. Judging from their response to Monday's events, the Eagles are trying out not giving Trump the attention he so desperately craves.
This post has been updated throughout.