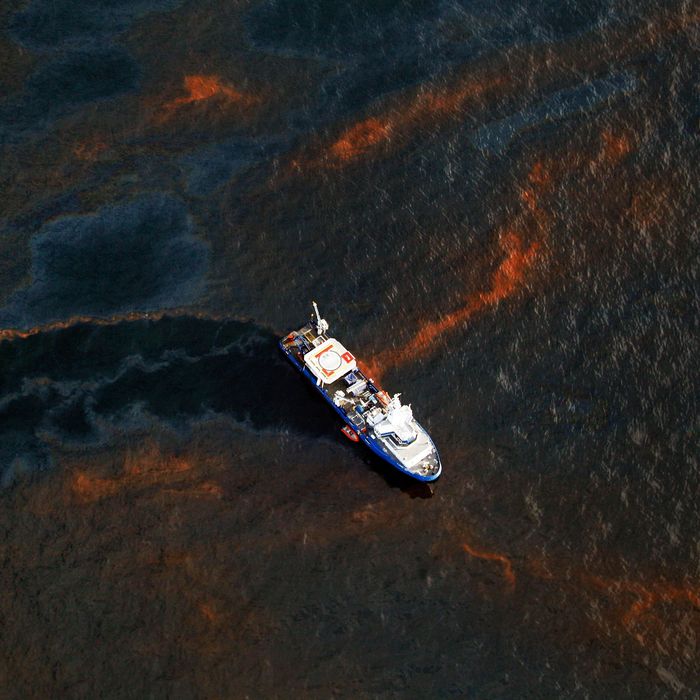 Obama took action in response to the horrific 2010 Deepwater Horizon oil spill. Trump says "Drill Baby Drill."
Photo: Chris Graythen/Getty Images
It is often useful to think of the Trump administration's policy initiatives, such as they are, as a compromise between his party's conventional conservative-business preoccupations and the "populist" impulse associated with MAGA and the president's distinctive following. Sometimes he gives the business community and anti-government zealots tax cuts, and sometimes he gives the people at his rallies immigration savagery and trade wars.
But on some issues these twin impulses pull in exactly the same direction, and that seems to be the case with everything remotely connected to energy and the environment. Overriding coastal elitist tree-hugger concerns about exploiting fossil-fuel resources to the max hits every Trumpian sweet spot.
That's how you get an unapologetic oil-and-gas booster like Scott Pruitt running the Environmental Protection Agency. And that's how you get a decision to brush away one of the most graphic and urgent concerns of the past decade, as the Associated Press reports:
President Donald Trump has thrown out a policy devised by his predecessor to protect U.S. oceans and the Great Lakes, replacing it with a new approach that emphasizes use of the waters to promote economic growth.




Trump revoked an executive order issued by President Barack Obama in 2010 following the Deepwater Horizon oil spill in the Gulf of Mexico. The largest offshore oil spill in U.S. history, it killed 11 workers and spewed millions of gallons of crude that harmed marine wildlife, fouled more than 1,300 miles of shoreline, and cost the tourism and fishing industries hundreds of millions of dollars.
The specific step Trump revoked was an interagency council Obama created to make sure petroleum-related threats to oceans and lakes did not fall through the regulatory cracks. But the New Boss characteristically dismissed the council as "excessive bureaucracy," and also alluded to another conservative touchstone by indicating the feds should follow the lead of the states in these matters. But the overall goal of opening up the waters to more energy traffic without a lot of worrying about the consequences is pretty clear:
In another reversal of Obama policy, Trump earlier this year called for opening most coastal waters to offshore oil and gas drilling, drawing fierce opposition from many coastal states. His administration also is stepping up federal leases for offshore wind energy development.




"Domestic energy production from federal waters strengthens the nation's security and reduces reliance on imported energy," Trump said in his order, which also mentioned shipping, fishing and recreation as among industries standing to benefit from his plan.

The order drew praise from a group representing offshore energy producers.
This is definitely the sort of thing that will go over a whole lot better in energy-company boardrooms and among white working-class folks in energy-producing states than in suburbs with a lot of college-educated swing voters. But from the perspective of Trump and his party, that's a deal they will take all day long.