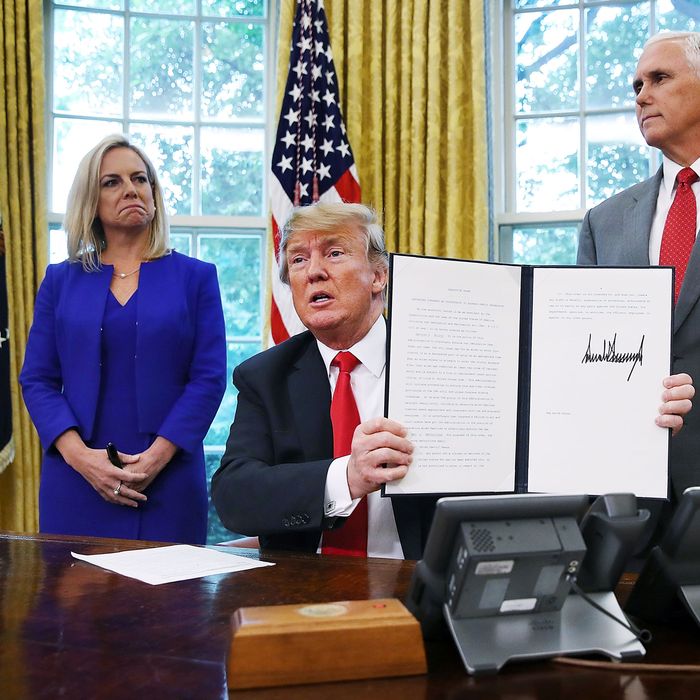 Trump with DHS Secretary Kirstjen Nielsen and Vice-President Mike Pence.
Photo: Win McNamee/Getty Images
President Trump signed an executive order Wednesday ending his own policy of separating families at the U.S.–Mexico border, despite claiming for weeks that only Congress could fix the issue.
"I didn't like the sight or the feeling of families being separated," Trump told reporters, with Homeland Security Secretary Kirstjen Nielsen and Vice-President Mike Pence standing by his side. "I think anybody with a heart would feel strongly about it. We don't like to see families separated."
Trump emphasized that this order does not spell the end of his administration's "zero tolerance" immigration policy, which mandates the prosecution of anyone caught illegally crossing the border. So instead of detaining parents and treating their child as if they were unaccompanied minors, the government will now detain families together.
The order says the administration's policy is to now "maintain family unity, including by detaining alien families together." It seems to allow significant leeway, though, by including that families will only be kept together "where appropriate and consistent with law and available resources."
The order also calls for a change to the 1997 court agreement, known as Flores, that requires children be released from immigration detention after 20 days. The administration wants to keep children in custody with their parents indefinitely.