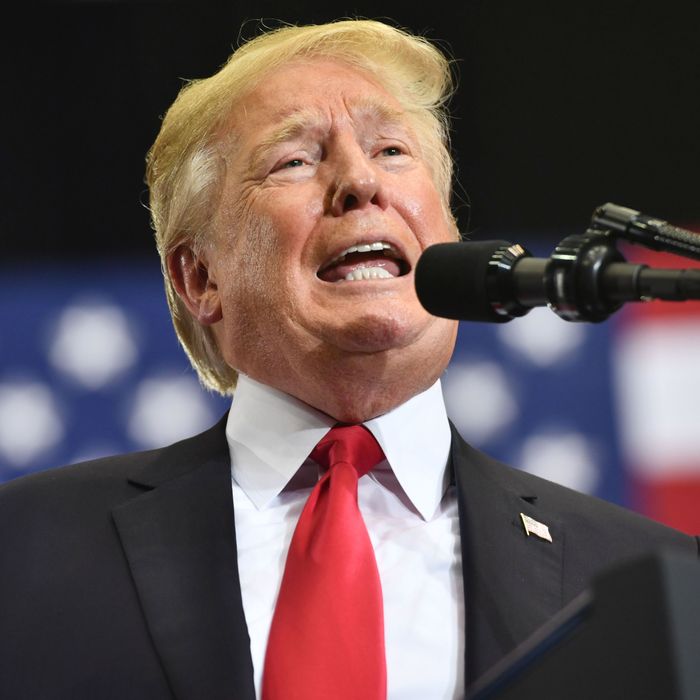 That rumored Martha Stewart pardon suddenly makes more sense.
Photo: Nicholas Kamm/AFP/Getty Images
Few documents on planet Earth are as closely guarded as the Bureau of Labor Statistics monthly jobs report. In the days leading up to the release of the Employment Situation Summary — which occurs on the first Friday of each month — maintenance crews stop collecting trash from the office where it is compiled; the IT department is barred from entry.
The reason: If any word about the strength or weakness of the new report leaks out, those in the know could make fortunes off of insider trading. Thus, only a small number of people are briefed on the report in advance — including the U.S. president, who usually learns of its contents Thursday afternoon. No president has ever given the public any indication of what that report might look like before its release.
Until now.
An hour later, BLS confirmed that the president had not been "looking forward" to its report because it contained bad news. The economy added 233,000 jobs in May, while upward revisions to numbers from March and April kicked in an additional 15,000. That brings the official unemployment rate down to 3.8 percent, its lowest level since 1969. Wage growth remains lackluster — but then, that's just how Wall Street likes it.
But before those figures went public, President Trump's tweet had already moved markets.
By the time the report itself was released, some traders' imaginations had outrun the secret data, and thus, stock futures dipped a tad after the numbers went public.
It is true that all traders have as much access to the president's tweets as they do to the jobs report itself. But the latter is released at a preordained time and place, and so gives no first-mover advantage to whomever happened to be awake and on Twitter at 7:21 Eastern Time Friday morning.
More critically, as Adam Davidson notes, Trump famously spends his evenings gabbing with his fellow super-wealthy friends over the phone — and has a known habit of sharing highly sensitive information with such people. If the president did divulge to them last night that Friday's report would be strong — whether out of braggadocio or a conscious desire to abet insider trading — then Trump's friends could have instantly made millions.
Under any previous president, Trump's early-morning disclosure would have constituted a monumental scandal. Under this one, it almost registers as a credit to the president's discipline. Once one considers that Trump has had the power to spill the beans on every strong jobs report released during his presidency, it's almost impressive that someone with his impulse control made it a whole 16 months before doing so.