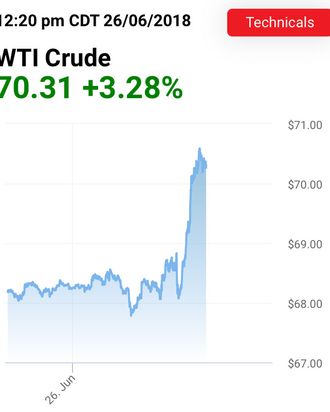 Last month, President Trump withdrew the United States from the Iran nuclear agreement — despite the fact that Tehran had complied with the deal and that all of America's allies supported its survival. European leaders have since vowed to maintain the agreement without the United States: By maintaining economic relations with Iran, the E.U. would provide Tehran with an incentive to let sleeping nuclear programs lie.
But on Tuesday, the Trump administration confirmed that it has no intention of allowing the Europeans to do any such thing. At a State Department briefing, an administration official told Bloomberg that it is pressing its allies to cease importing Iranian oil by November 4 of this year, or else face a variety of U.S. sanctions. The official did not rule out the possibility that the White House would extend waivers to certain nations, but said that there are no active negotiations over such waivers at this time.
West Texas Intermediate crude, the benchmark for U.S. oil prices, jumped by more than 2 percent on the news, to more than $70 a barrel.
In 2017, Iran sold an average of 755,000 barrels of oil to European buyers each day, and 1.37 million barrels to its patrons in Asia.
If the sudden removal of those supplies from the world market generates a sustained increase in oil prices, then Trump's withdrawal from the Iran deal won't just jeopardize Tehran's commitment to nuclear nonproliferation — but also his party's prospects in November's midterm elections.