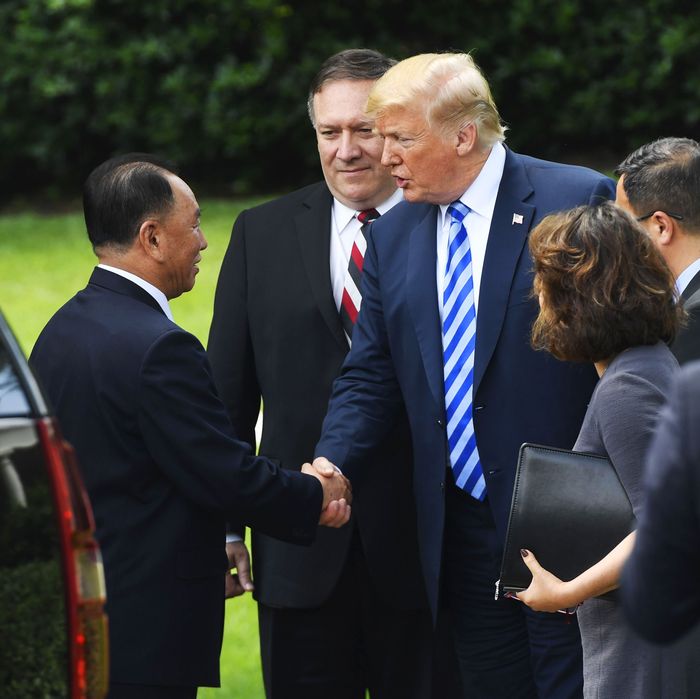 Trump says good-bye to North Korean official Kim Yong-chol.
Photo: Saul Loeb/AFP/Getty Images
President Trump announced Friday that his on-again-off-again meeting with North Korean leader Kim Jong-un is once again on.
"We'll be meeting on June 12 in Singapore," Trump said at the White House after a meeting with Kim Yong-chol, the top aide to the North Korean dictator. Kim was at the White House to deliver a letter from the North Korean leader concerning the proposed summit. A former intelligence chief, Kim is his country's top nuclear weapons negotiator and the highest-ranking North Korean official to meet with a U.S. president in 18 years.
In his remarks following the meeting, Trump stressed that the June 12 summit is the start of a "process." He also softened his tone, saying, "I don't want to use the term maximum pressure anymore. We're getting along."
Before meeting with Trump, Kim, who is currently a target of U.S. sanctions, spent Wednesday and Thursday with Secretary of State Mike Pompeo in New York. "Our two countries face a pivotal moment in our relationship, and it would be nothing short of tragic to let this opportunity go to waste," he said.