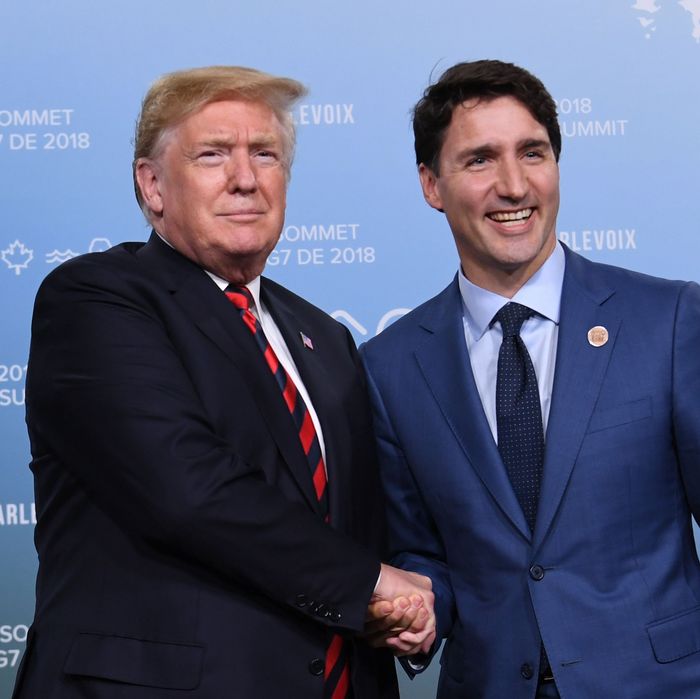 Kim Jong-who?
Photo: SAUL LOEB/AFP/Getty Images
Last week, amid reports that President Trump wasn't doing much studying for his historic summit with North Korean leader Kim Jong-un, he claims that formal briefings are unnecessary. "It's about attitude, it's about willingness to get things done," he explained.
Before making an early exit from the G7 summit in Canada on Saturday, Trump cast his meeting with Kim as a kind of first date, saying, "We will have seen each other. Hopefully we will have liked each other, and we'll start that process." And how will he be able to tell if it's meant to be? As a master deal-maker, he'll just know.
"I think within the first minute, I'll know," Trump said, "just, my touch, my feel — that's what I do."
Despite this emphasis on first impressions, Trump began the Singapore summit by signaling to Kim that he's the kind of guy who refuses to put his phone down during dinner, and can't stop talking about his ex.
After a 24-hour break from Twitter as he traveled to Singapore and settled into his hotel, around 9 a.m. local time on Monday (Sunday night in the U.S.), Trump threw some more punches at Canadian prime minister Justin Trudeau, continuing his trade-related feud with the United States' closest allies.
As Trump was trying to make "fool trade" happen, Secretary of State Mike Pompeo tweeted a series of photos showing State Department officials meeting with foreign diplomats and generally behaving like normal White House officials headed into a high-stakes summit.
Finally, Trump shifted his attention to the matter at hand, tweeting that he's excited to be in Singapore for the Kim meeting:
But before heading off to meet with Singaporean prime minister Lee Hsien Loong, Trump returned to his trade war:
During his meeting with Lee, Trump remarked, "We've got a very interesting meeting in particular tomorrow. I think things could work out very nicely."
But if they don't, we'll know who to blame: not Trump's lack of preparation, but our neighbor to the north. Stupid sexy Trudeau!