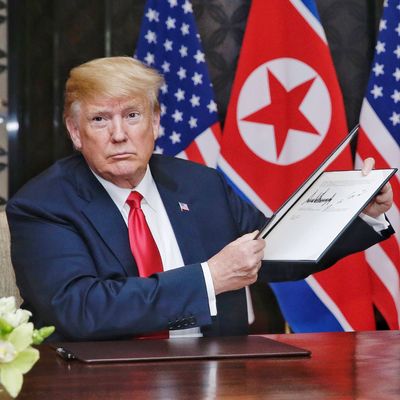 Are you provoked?
Photo: Kevin Lim/The Strait Times/Handout/Getty Images
President Trump's historic summit with Kim Jong-un has already yielded one significant, verifiable concession — from the United States, to the North Korean regime.
"We will be stopping the war games," Trump announced at a post-summit press conference, referring to the joint military exercises that the American and South Korean armed forces perform each year.
The president went on to suggest — both at the press conference, and in an interview with ABC News' George Stephanopoulos — that he sees the suspension of those exercises as a favorable development for the United States in its own right.
"You know, I wanted to stop the war games, I thought they were very provocative," Trump told Stephanopoulos. "But I also think they're very expensive. We're running the country properly; I think they're very, very expensive. To do it, we have to fly planes in from Guam — that's six and a half hours away. Big bombers and everything else. I said, 'Who's paying for this?' I mean, who pays, in order to practice."
Trump's concession initially caught Seoul off guard. In a statement to Bloomberg, the office of South Korean president Moon Jae-in said, "At this point, we need to know President Trump's exact meaning or intentions. However we think that it is crucial to pursue various solutions for better dialogue."
Still, it is unlikely that Moon was troubled by Trump's gesture. Just weeks ago, Moon asked Trump to cancel one scheduled military exercise, so as not to disturb negotiations then proceeding between Seoul and Pyongyang.
Regardless, the president's concession — and the language with which he conveyed it — ruffled some feathers in Washington.
And, on one level, the foreign-policy Establishment's grievances are understandable: Trump's suspension of the war games was not matched by any analogous gesture from Kim — or, at least, not a public one. Pyongyang did reaffirm its "firm and unwavering commitment to complete denuclearization of the Korean Peninsula." But North Korea has long expressed that commitment, and in much the same spirit that American presidents used to tout their fond desire to see a world without nuclear weapons. The "complete denuclearization of the Korean Peninsula," in Kim's view, would require the total and verifiable elimination of America's capacity to strike his nation with a nuclear weapon. His statement did not indicate that he is willing to be the first to disarm.
But the outrage over Trump's use of the word provocative is less well-founded. Yes, that is the sort of language North Korea uses to describe the exercises. But if Mexico and China regularly staged simulated wars with the United States just off the coast of the the Atlantic, would anyone really hesitate to call such actions provocative? What if such exercises were being conducted less than 7o years after China had destroyed nearly all of America's cities and towns — and killed approximately 1 million of its people — in a three-year bombing campaign?
Seperately, it is not clear just how significant Trump's concession actually was. According to Lucas Tomlinson of Fox News, the United States will continue to conduct joint military exercises with Japan, and nuclear-capable B-52 bombers will continue performing training flights in Guam.
Ultimately, whether the summit in Singapore was successful depends on what problem one wished it to solve. If you believe that the primary threat posed by North Korea's nuclear program was that America might instigate a mass-casualty war to combat it, then Trump's meeting with Kim was a diplomatic breakthrough: The president appears to have brokered a peace agreement with himself — in exchange for forgoing the thrill of war, Trump has given himself the opportunity to claim that his deal-making skills allowed him to succeed where his predecessors failed.
If the primary threat is the existence of the North Korea nuclear program, then we're in the same place we were last week; except that the Andersen Air Force Base in Guam might now save a little bit of money on its jet fuel expenses.
Update: The confusion expressed by South Korea over what Trump meant, exactly, by "stopping the war games" was echoed in the United States. Colorado Senator Cory Gardner tweeted that Vice President Mike Pence had told him "regular readiness training" with South Korea would continue; Pence's Press Secretary denied he had said any such thing. Gardner then clarified his comments, confirming that the U.S. and South Korea would indeed scuttle their biannual war games, but not cease all military cooperation.
It's good to see that everyone's on the same page.