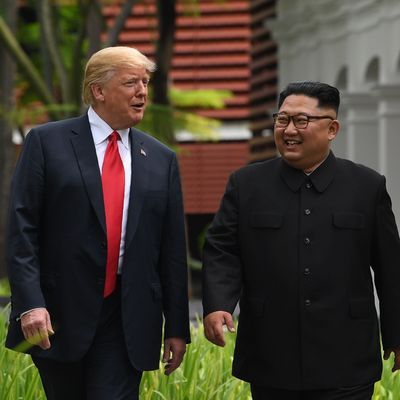 Wow, your people are so repressed. How do you do it?
Photo: SAUL LOEB/AFP/Getty Images
This week we learned that President Trump will not do his homework even when the fate of the world is literally riding on it, and that he's a huge fan of dictatorships. A Washington Post report on Trump's meeting with Kim Jong-un in Singapore on Tuesday reveals that behind the scenes, he made these two points even clearer.
First we learn that upon arriving in Singapore on Sunday, an "antsy and bored" Trump urged his team to demand that the summit be moved up a day. "We're here now," he said, according to two people involved in the negotiations. "Why can't we just do it?"
This left aides worried that the whole summit might be ruined by Trump's impatience. Aside from the unprecedented chaos of changing the day of the summit at the spur of the moment, it seems the extra time was needed. According to previous reports, officials were still trying to come up with a post-summit statement that both leaders could agree to on Monday.
Eventually top aides convinced Trump that the team couldn't be ready on Monday, and noted that he might miss out on TV coverage if he moved up the summit.
Trump has expressed admiration for dictators in the past, and since meeting Kim he hasn't stopped fawning over his "rough" and "tough" treatment of his people, even if it involves some murder. The two sources recalled that while in Singapore, Trump marveled at how "tough" Kim's guards seemed. He also joked that his own quasi-state TV is no match for the real deal:
At one point, after watching North Korean television, which is entirely state-run, the president talked about how positive the female North Korean news anchor was toward Kim, according to two people familiar with his remarks. He joked that even the administration-friendly Fox News was not as lavish in its praise as the state TV anchor, one of the people added, and that maybe she should get a job on U.S. television, instead. 
So rather than Trump showing Kim the benefits of peaceful engagement with the rest of the world, Trump learned a bit more about what dictatorship has to offer.