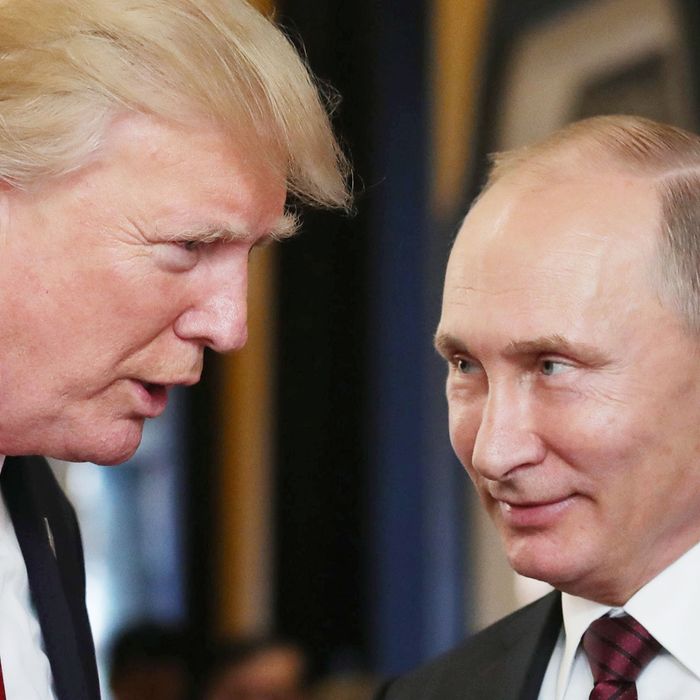 New World Disorder.
Photo: Mikhail Klimentyev/AFP/Getty Images
Donald Trump and Vladimir Putin will meet in Helsinki next month, in a bid to improve fraught relations between their two countries.
Plans for the July 16 summit were ironed out on Wednesday, when the Russian president hosted national security adviser John Bolton at the Kremlin.
It is unclear what the White House hopes to get out of the meeting beyond a better relationship with Moscow. Tensions between the United States and Russia in recent years have centered on Putin's annexation of Crimea in 2014, his government interference in America's 2016 election, and its apparent attempt to poison a former Russian intelligence officer and his daughter in Britain — exposing many other Britons to a toxic nerve agent in the process.
The Trump administration has taken actions to punish Putin's regime for these offenses. The White House has imposed sanctions on Russian oligarchs and provided lethal weapons to anti-Russian forces in Ukraine.
But Trump, himself, has expressed little support for these measures — and no strong objection to the offenses they were designed to deter. The president still (ostensibly) puts more credence into Putin's assurance that he did not interfere in the 2016 election, than he does in the consensus findings of his own intelligence agencies, tweeting Thursday morning, "Russia continues to say they had nothing to do with Meddling in our Election!" And on the eve of this year's Group of Seven (G7) summit, Trump publicly called for Russia to be readmitted into that club of major industrial nations, which had expelled Moscow following its intervention in Crimea. At the G7 meeting, itself, Trump reportedly told America's European allies that "NATO is as bad as NAFTA."
For the early part of his presidency, Trump's indifference to the details of geopolitics allowed the administration's Establishment figures to dictate much of his foreign policy. But that Establishment's influence over the president has rapidly declined in recent months, as Trump's growing comfort in the Oval Office has emboldened him to chart his own course (particularly on matters of trade).
Thus, there's reason to think that Trump's diplomatic goal at the upcoming summit is to improve his personal relationship with an authoritarian he admires — by whatever means feel right at the time.
Bolton himself suggested Wednesday that the administration had no concrete goals for the meeting in Helsinki, beyond building trust and understanding between the two leaders.
"I don't think that we expect necessarily any specific outcomes or decisions," the national security adviser said. "It's important after the length of time that has gone by without a bilateral summit like this to allow them to cover all the issues they choose."