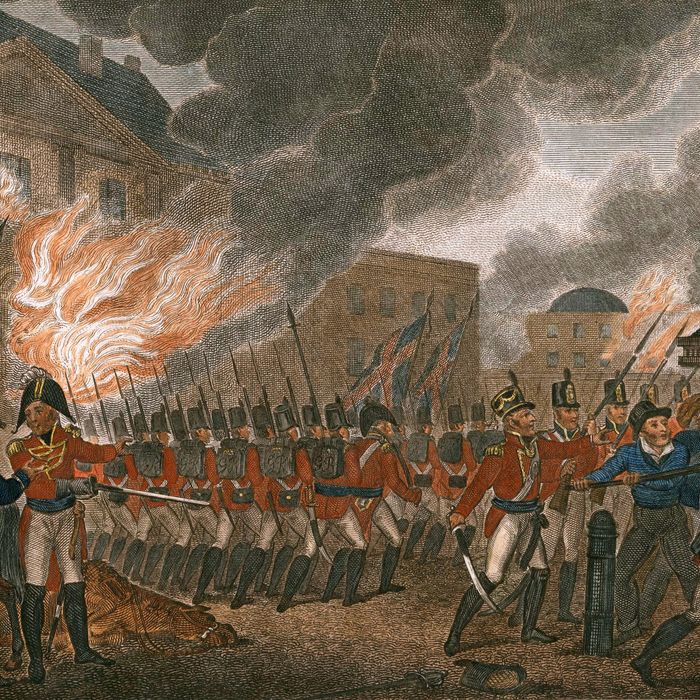 Canada — er, the United Kingdom — burning down the White House in 1814.
Photo: Heritage Images/Heritage Images/Getty Images
It's always perilous when the president of the United States decides to deploy his storehouse of information on subjects other than real estate, golf, or beauty pageants. In what was apparently a "testy phone call" about U.S. tariffs on steel and aluminum imports on May 25, Trump tried to get historical with Canadian prime minister Justin Trudeau, according to CNN.
According to the sources, Trudeau pressed Trump on how he could justify the tariffs as a "national security" issue. In response, Trump quipped to Trudeau, "Didn't you guys burn down the White House?" referring to the War of 1812.
It was an army from the United Kingdom, of course, not its then-possession Canada, that occupied Washington and burned down the White House on August 24, 1814, per this account from history.com:
When the British arrived at the White House, they found that President James Madison and his first lady Dolley had already fled to safety in Maryland. Soldiers reportedly sat down to eat a meal made of leftover food from the White House scullery using White House dishes and silver before ransacking the presidential mansion and setting it ablaze.
You'd think that as the current occupant of the White House, Trump might have heard about the incident in some detail. Something tells me that if Mar-a-Lago was sacked Trump would know exactly who was responsible. Perhaps the president had picked up somewhere along life's way the fact that Canada was involved in the War of 1812. It was, but mostly because the U.S. kept invading its territory, hoping to make Canada the prize of victory. Here's how the Canadian Encyclopedia puts it:
The War of 1812 (which lasted from 1812 to 1814) was a military conflict between the United States and Great Britain. As a colony of Great Britain, Canada was swept up in the War of 1812 and was invaded a number of times by the Americans. The war was fought in Upper Canada, Lower Canada, on the Great Lakes and the Atlantic, and in the United States. The peace treaty of Ghent, which ended the war, largely returned the status quo. However, in Canada, the war contributed to a growing sense of national identity, including the idea that civilian soldiers were largely responsible for repelling the American invaders.
Trump's comment made about as much sense as thanking Trudeau for Lafayette's assistance to America in the Revolutionary War, given his French heritage and all.
It will presumably be suggested that Trump was just having an erudite little historical jest — you know, the sort of thing he's known so well for. Let's hope that's how it was taken by the Canadians. Otherwise they may decide to have a Canada First moment and retaliate against Trump's tariffs in a warlike manner.