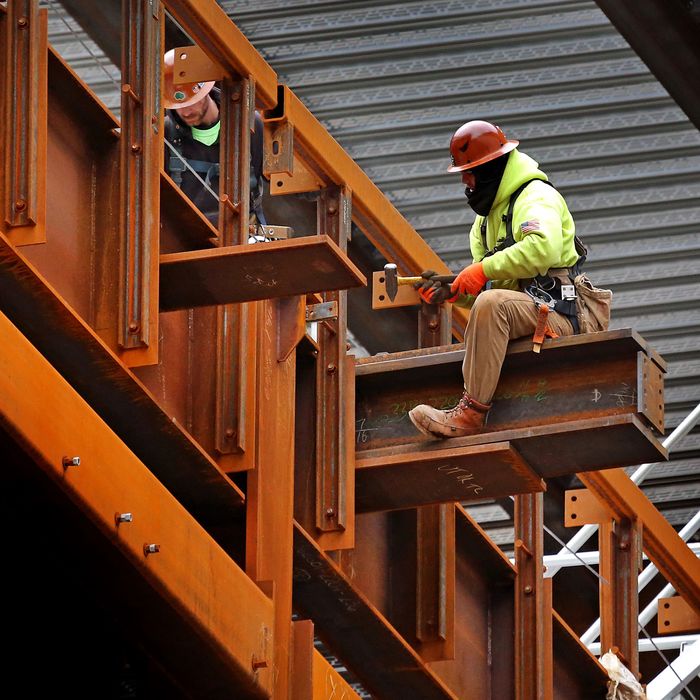 Cooperation between the U.S. and its allies on trade and tariffs is becoming a high-wire act.
Photo: David L. Ryan/Boston Globe via Getty Images
With a G7 meeting of major industrialized countries scheduled for Quebec on Friday, there are signs Donald Trump is succeeding in uniting America's traditional allies — against his trade policies. Canada, Japan, Germany, the United Kingdom, France, and Italy (six of the G7) are in accord in pushing back strongly against Trump's aluminum and steel tariffs, through concerted retaliation if necessary. The Wall Street Journal reports it's all getting deadly serious:
"Tariffs imposed last week by President Trump on EU and Canada have increased significantly tensions before the meeting," a senior EU official said, adding that a breakthrough to ease trade tensions was unlikely. "We have extremely low expectations."




Officials from some of the U.S.'s closest allies said their level of interaction and coordination on tariff retaliation is exceptional.




"Japan and the EU will team up on this issue and call on cooperation from other countries," Japanese Trade Minister Hiroshige Seko told reporters Tuesday. Mr. Seko noted that Japan and the EU had issued a statement critical of the U.S. after he and EU Trade Commissioner Cecillia Malmström met in Paris last week. "This is an unusual step," he said.
Ironically, the tariff dispute is keeping the G7 from working together to address a glut in steel on world markets created by Trump's favorite target, China. And the concerted resistance to Trump's tariffs is also undermining his favored approach of bilateral negotiations with countries to secure specific concessions in exchange for relief from the threatened levies. E.U. Trade Commissioner Cecilia Malmstrom called the administration on that publicly:
Malmstrom said she had spoken frequently with U.S. Commerce Secretary Wilbur Ross to achieve a permanent tariff exemption for the EU.




"Throughout these talks, the U.S. has sought to use the threat of trade restrictions as leverage to obtain concessions from the EU," she said. "This is not the way we do business, and certainly not between longstanding partners, friends and allies."
"The U.S. is playing a dangerous game here," Malmstrom said.
Now that they've gotten everyone's attention, it would be good if the Trump administration's next move is constructive. America First is a fine political slogan, but not a formula for multilateral progress on compliance with international norms.