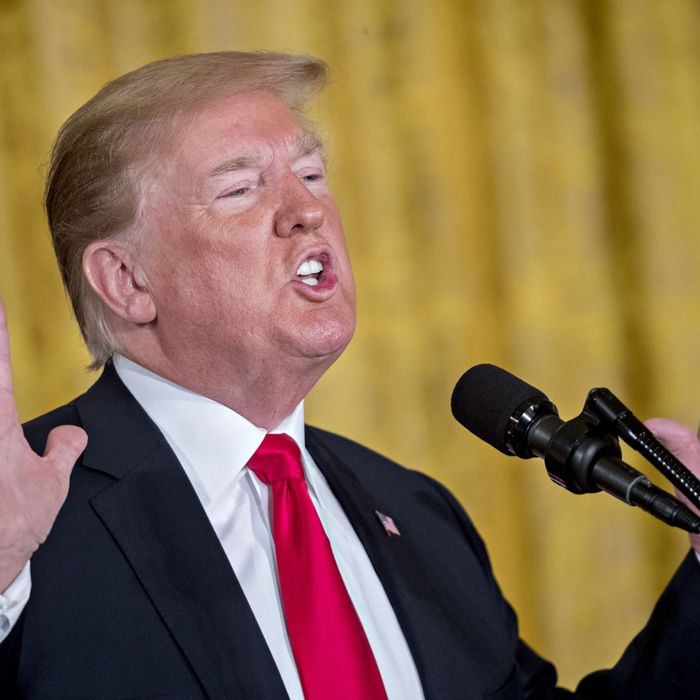 Trump's strategy for the immigration policy mess is as clear as mud.
Photo: Andrew Harrer/Bloomberg via Getty Images
President Trump met with House Republicans to discuss immigration policy Tuesday afternoon in an atmosphere that approached a real political crisis. Originally the meeting was planned to reassure members that he really was on board with the "compromise" bill Paul Ryan wants to bring to the floor for a vote on Thursday, along with the more conservative Goodlatte bill, after Trump mistakenly condemned it last week. And he did indeed accomplish that filling-a-hole-he-dug purpose:
But since last week the whole immigration debate has been transformed by the national furor over the administration's policy of separating families at the border in order to deter migrants from appearing in the first place. Even as Trump sought to use that furor as leverage for a demand for comprehensive immigration legislation (which is very clearly doomed in the Senate), pressure quickly mounted among Republicans in both chambers of Congress to do some sort of quick fix for the family separation issue — or better yet, for the administration to just stop taking children away from their parents for the moment.
Trump acknowledged to House Republicans that something needed to be done about family separations, a problem he called "nasty." But the hows and the wherefores were left vague. Indeed, Trump appeared reluctant to even talk about immigration at the emergency meeting on immigration:
As for providing guidance to the perplexed, POTUS wasn't doing that, for sure:
So now we get to see whether House Republicans can muster 218 votes for a "compromise" immigration bill that's already dead-on-arrival in the Senate, and what, if anything, the administration might do in the interim to deal with the family-separation crisis other than trying to shift the blame to Democrats, which has clearly not worked.
If Trump's faithful House allies were expecting a stroke of strategic brilliance from the president at this perilous moment, they must have been disappointed. He solved the problem he created yesterday, but not today's more pressing issues.